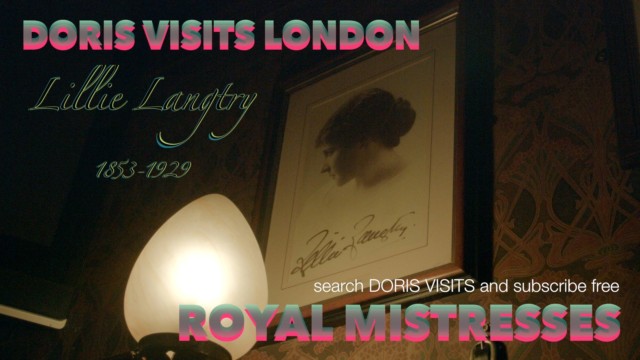 Lilly Langtry, actress, & lover of King Edward VII – As well as presenting Doris Visits I have a one woman show; Royal Mistresses, which thanks to P&O I have played on Broadway – If you agree the definition of a Broadway show and theatre is one that is in New York and has over 500 seats. I played New York on the Aurora when the ship went in early to shelter from a storm. I actually perform many Royal Mistress characters and have done so on many of the ships, and I have covered some historical material in these films. I have found the places where they got up to whatever they did!
Rules Restaurant in London – Lillie Langtry is famous and focussed on the highlife. In this first film I visit London to specifically find places where she met with King Edward VII and I discover one of London's oldest restaurants that is still open for business. Rules Restaurant. Amazingly they let me film and helped me with information. I could not have been more excited. The film also includes the Theatre Royal Drury Lane.
ROMANTIC CRUISE BOOKS P&O LATE DEALS
Cruise Doris Visits Subscribe. Thank you
I also took a trip to Edinburgh and whilst the film is of that cruise port, then the City of Edinburgh, I discovered Lillie Langtry also played there so I do make reference to it in that film. She was so popular with the audiences that the students would shout for her return at any point in the play when her character was not on stage! Lillie and the King also pop up in my film of Cromer on the East Coast.
GAME OF THRONES TAKE ON DUBROVNIK OUR ANGELS & DEMONS TAKE ON ROME
For actress Jean Heard's one woman show for conferences, WI and lunches references available from many places including regional WI AGM's.book Via agent Jennie Storr here or contact us direct via this web site
Why not have a look at the LATE DEALS over a coffee from your arm chair? Doris Visits allows you to SEE THE CRUISE BEFORE YOU CRUISE THE SEA.