Cunard Queen Victoria
The C word as the comedians say at P&O, demonstrates the friendly rivalry between the two sister cruise lines out of Southampton does see some familiar brand styles. As our main team have never cruised with Cunard (yet) we are very pleased that David James Taylor has once again supplied us with a film to show you this ship.
JOIN THE NEW CUNARD CRUISE CHAT GROUP ON FACEBOOK
Cruise Doris Visits Subscribe. Thank you
Rome was their final stop, and we seem to get in and out of there on a regular basis. If you do take a cruise like this do stop over in Rome, the chance to see the Vatican lit up at night is something not to be missed. If you need to book a hotel, then take a look at our helpful film. We stayed cheap and so so close we could have had breakfast with the pope!
The smallest of Cunard's ships, the Queen Victoria, is just short of 300 metres. She is known for her elegance and her graceful splendour, is a huge favourite with many of our readers, please add your comments and experiences. Despite the classic nature of her name her unique facilities are amongst the most modern you will find. However, she has a special historic ambience so evocative of great liners past. With luxurious marbles, woods and rich fabrics, she exudes elegance throughout her seven restaurants, thirteen bars, three swimming pools, ballroom and theatre. She is not a true ocean liner as she does not come with the heavy plating throughout the hull, but she does have heavy plating. She also does not have the propulsion system of a dedicated transatlantic liner. But has Sulker ZA40 diesel engines that can raise 63,400 kW and drives 2 ABB Azipods and can reach 23.7 knots. She has a service speed of 21 knots.
Passenger capacity is 2014 crew is 900. JOIN THE NEW CUNARD CRUISE CHAT GROUP ON FACEBOOK
See Elizabeth Goes Cruising Again on the Celestyal Olympia. Follow us on Facebook and Twitter. Click on any of the destinations to see our detailed films of the destinations by other presenters. There is also an alternative Canary Islands Cruise on the Azura. Please subscribe to our channel and if you like Elizabeth Goes Cruising Again, please subscribe to them on Youtube. While on YouTube please also subscribe to Doris Visits.CHAT GROUP – Cruise the Adriatic Chat – New Group, be one of the first to join and start a thread on your forthcoming or past cruise by number – CLICK HERE TO SHARE & CHAT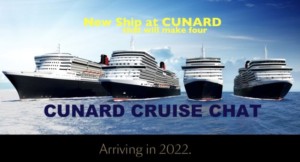 DORIS VISITS COMPARE CRUISE DEALS BOX takes you to a variety of deals.
There has yet to be a book written in the Solo Cruiser series that is based around a mediterranean Cruise, but we here that one is being planned and that it takes place on a Strictly Come Dancing Cruise. The 4th book based in Florida and the Caribbean is due out early 2018. For now, if you have not read them, like in 50 Shades you might skim through the raunchy bits, but they are great cruise books with good stories. It never seems to work out the way it should though. Follow author Sally Katz by clicking her name and then on the author page on Amazon, click follow. Then as she releases a new book your are informed.