G Adventures run smaller expeditions and cruises. They have four boats in the Galapagos Islands, a ship in the Arctic, one in the Antarctic, and River Ships in the Amazon and Mekong.
The Galápagos' incredible natural diversity is the crucible from which Charles Darwin's earth-shattering theory of evolution sprang. There are species of bird, animal, and plant life here that you simply won't find anywhere else. Blue-footed boobies, giant tortoises, sea lions, marine iguanas – it's like a nature documentary you can walk through. G Adventures encourage you to get off the couch and see for yourself. EXPEDITION CRUISE CHAT

G ADVENTURES Integrity Yolita Eden Reina Silvia Voyager EXPEDITION CRUISE CHAT
The Western Islands – ISABELA & FERNANDINA
The largest and youngest of the Galápagos Islands, the less-visited western islands contain some of the archipelago's largest colonies of birds and marine iguanas and boundless snorkelling opportunities. If you're looking for wildlife, come here first.
Hike to the caldera of Sierra Negra, a 1,124m (3,687 ft.) shield volcano
Visit massive colonies of seabirds and marine iguanas
Hike through lava fields and over black lava flows
See the five largest volcanoes in the Galápagos
The Southern Islands – FLOREANA & ESPAÑOLA
The southern Galápagos islands are home to top-notch snorkelling and quirky tradition. Volcanic bays and unusual land formations provide shelter for a dazzling array of birds and fish, and the charming simplicity of Post Office Bay always raises a grin or two.
Relax on white-sand beaches on Gardiner Bay or scale the volcanic landforms
Post a letter and take one home from Post Office Bay, the visitor-supported hand-delivery mail system
Discover exotic marine life at Isolte Champion, a snorkeller's paradise
The Central Islands – SANTIAGO, SANTA CRUZ & SURROUNDING ISLANDS
The Galápagos' central islands are perhaps the best spot from which to witness the full scope of the archipelago's incredible natural diversity on the land and (with a snorkel) under the sea. While close together, each of these small islands has developed in isolation from its neighbours, spawning an amazing collection of plants and animals.
Come face-to-face with 100-year-old Galápagos tortoises in Santa Cruz.
Enjoy the view from Pinnacle Rock on Bartolomé Island
Explore hidden snorkelling spots and white-sand beaches on Santiago
Swim with sea lions in the waters off North Seymour
The Northern island – GENOVESA
It's hard to tear your eyes away from the water in the Galápagos, but you'll want to look skyward on Genovesa. Home to an amazing concentration of birdlife, this tiny rock is no slouch under the waves either, boasting a rich variety of aquatic animals that rival their winged neighbours.
Snorkel the sunken crater of a volcano while keeping an eye out for sea turtles and reef sharks
Hike the trail that leads to El Barranco for a top-notch vantage point, passing massive colonies of seabirds along the way
Explore the largest nesting colonies of red-footed boobies and frigatebirds
The East Island – SAN CRISTÓBAL
An aquatic haven of biodiversity, you'll find just about every kind of creature (including snorkellers and scuba divers) imaginable off San Cristóbal's clear waters. The land and sky are equally amazing, too, playing host to colonies of boobies, frigatebirds and volcanic landscapes.
Sail through mysterious Kicker Rock and dive
Hike at Punta Pitt in search of three distinct species of booby
Relax on the white-sand beaches of Cerro Brujo
G Adventures extraordinary adventures at the ends of the Earth
Whether it's the Arctic or Antarctica, an eight-day dip or 21-day odyssey, a quest in search of penguins or polar bears, there's a G Expedition cruise that's right for you.
The Arctic
Elusive polar bears plod along ice floes, birds circle and soar over Spitsbergen while mighty glaciers crash into the sea. Their ship and expedition team combine to deliver excitement and indelible memories. Bringing you closer to the rugged majesty of the north. The sea spray on your cheek will wipe away but once you've got the Arctic under your skin, it'll be with you forever.
The Arctic EXPEDITION CRUISE CHAT
Antarctica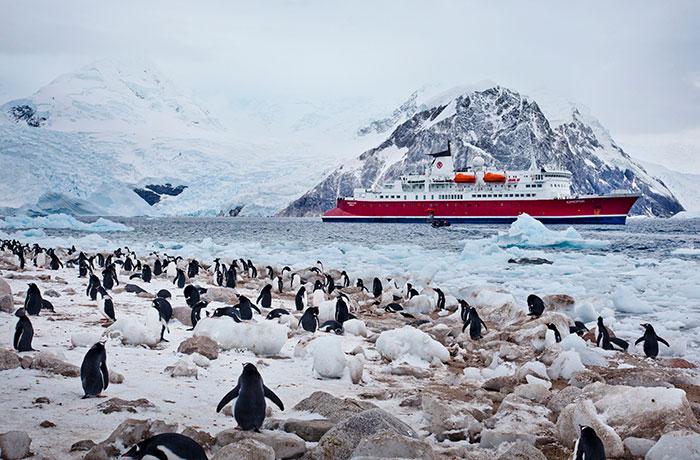 A continent of superlatives that will leave your mind searching for words to describe it. Each day presents a new discovery, whether you're cruising through ice-choked waterways, trekking through chattering penguin rookeries, or catching minkes and humpbacks breaching in the pristine waters. The few travellers who are fortunate enough to explore Antarctica's vast expanses return home forever changed by an experience so awe-inspiring that it reaches to their very core.
G-Expedition (Antarctica) EXPEDITION CRUISE CHAT

Cruising the Mekong River – Boat Toum Tiou 2
A thriving trade route for six different countries for thousands of years, the Mekong River remains one of the few big rivers in the world that refuses to be civilized. Rich with wildlife (only the Amazon is more biologically diverse) and lined with everything from small towns to that stunning Angkor Wat temple complex, the Mekong's many twists and turns have helped it retain its wild character. You'll need a great guide and a sturdy boat to get the most out of your Mekong cruise. Fortunately, we've got both.
AMAZON
G Adventures' purpose-built riverboat grants you the freedom to explore the Amazon in comfort. Boasting roomy public spaces, a cheery upper deck, and stunning, take-it-all-in sightlines, the ship's decks are the perfect spot from which to survey the pristine rainforest and the dazzling array of colourful birdlife that inhabit it.