Dom Rep as the tee shirts say has had a history of fighting between invaders and those left to live there. It is another story of pirates and smuggling, people trafficking and growth. The island feels very Cuban, but they dance the meringue rather than a salsa. It has a host of beaches and they are public. Rumours are that Royal Caribbean want to copy the Amber Cove idea and are looking at the old port in Puerto Plata. The town has a port, church, Independence Square and fort as seen on the film. Ship tours are numbers. If you are on a P&O ship you can book a tour as you can a restaurant table, via your on-line planner which you can access here.
Cruise Doris Visits Subscribe. Thank you
As we are official affiliates of P&O, you can book your holiday here now or if you have booked already and have your details can book a table or excursions via you cruise planner below.
P&O EARLY DEALSGO TO YOUR PERSONAL P&O CRUISE PLANNER HEREP&O LATE DEALS
Other Amber Cove / Puerto Plata choices might be:-
Theme Park – Ocean World Adventure Park is three miles from Puerto Plata. It is a popular interactive water park and marina with tropical birds and tigers behind glass walls. It has aquariums to be viewed, areas to swim with dolphins, play with sea lions, pet sharks and stingrays, and snorkel with tropical fish.
CHAT GROUP – Cruise the Caribbean Chat – If you love the Caribbean then share here. Chat and answer other people's questions. Here is where you are the knowledge base – CLICK HERE TO SHARE & CHAT
Fort San Felipe is 400 years old and one of the first European forts built in the Americas. It was built to protect the island's harbour from invaders and pirates. (It was built by the first invaders). It has a small admission fee which allows you inside, to see the small museum and the cell where Juan Pablo Duarte was first interned. He spent most of his life in exile. There are a number of guides inside its eight-foot-thick walls, who will show you round for a further small fee. The castle is lit at night.
Beaches are the big attraction in and around Puerto Plata. The area has golden sand beaches estimated totally around 300,000 square meters. There are eleven kilometers of beach, reaching from Cofresi to Sosua, with the main urban beach being Long Beach, located just to the east, along the Malecon. We drove past it and along the front to Consista Rica beach. Both Confresi and Costambar beaches are located west of Puerto Plata, and are now dominated by luxury resorts. Puerto Plata beaches are great for snorkelling because they have a reef. Nearby Playa Dorada (golden beach), has an amazing 24 km of white sand. Other beaches include Cabarete, Boca de Cangrejo, Cano Grande, Bergantin, Playa de Copello, and Playa Mariposa. To the west of Puerto Plata is a favorite, the shaded Guarapitao Beach.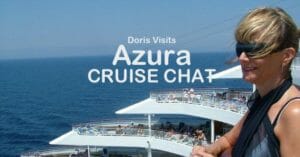 AZURA CHAT. Click here or the picture to join Azura chat, news and information that you might not get anywhere else.
Cable Car (teleferico) – Those who love great views can take a cable car up the 2,600-foot Mount Isabel. It is a seven-minute ride up a near vertical climb. At the top there is a restaurant, and a statue of Christ similar, but smaller than the iconic one in Río de Janeiro. On the top you will also find Botanical Gardens – Puerto Plata has a flower-filled botanical garden.
Golf – the Robert Trent Jones golf course is there for those who like to play at every stop.
Damajagua Waterfalls is a short taxi ride away and is on some tours and excursions. It has a series of 27 cascades and rock pools but beware, they involve climbing ladders up to the falls then sliding, swimming, and jumping down them wearing helmets and lifejackets. This is a long day with a lot of walking, as expressed in the novel American Portrait.
Sosua became a refuge for about 600 European Jews who settled here to start a new life in 1940 and they have influenced the area. It is 15 miles east of Puerto Plata and has sheltered beaches where the young and fit parade, the town has a cosmopolitan character with guesthouses, villas, hotels, and cafes. The 4 mile crescent-shaped Sosua Beach is alive with vendors. It is perfect for windsurfing, kiteboarding, diving and snorkeling. During winter, whales may be spotted in the bay.
Amber Museum of Puerto Plata with the Jurassic park like logo. The fossilised sap, Amber, is the Dominican Republic's designated national gem and they have some samples worth over $50,000. Set in a very old elegant Victorian-style house, you are guided round as the film shows. There is a donation box for the tour and a gift shop selling amber jewelry.
The Brugal Rum Distillery is just a kilometer east of town on the main Sosua-Playa Dorada highway. The distillery is open every day of the week except Saturday and Sunday, from 9am-12pm, then 2pm-5pm. There is no admission charge, and you will met in a reception area by a pleasant guide who will escort you inside the huge distillery which produces about a millon and a half litres of white and dark rum each year. There is a shop.
Cigar factory is in the central region where there are many factories. Santiago is the centre of the cigar industry where cigars are made individually by craftsmen, who roll as many as 300 a day. There may be small demonstrations in town. DomRep exports 60 million cigars annually.
Marella Cruises to the Caribbean – click here to view Marella Cruise's own web site page for – Caribbean Cruise deals page
READ the CRUISE as you CRUISE the SEA. If you know a great novel set at a cruise destination, tell us and we will add it to the destination page and credit you with the suggestion and on which ship you read it.
How to access these deals – use the click here and when on the page, click the brown bar 'see all cruises' just above the pictures of the ships. That will take you to the deals we have.