We have seen the plans emerging, and the determination from the outset to change cruising by Richard Branson. He has deliberately avoided Virgin Cruises in favoured of Virgin Voyages. He has deliberately suggested a different external look for his ships, and he has said he will revolutionise the experience inside the ship. This does not mean the huge theme park family experience, far from it. Virgin Voyages have said they will be adult only. Quotes released of the first ship.
"She will be the most recognisable ship sailing the seven seas, delivering an irresistible sailor experience."
And a quote we welcome greatly as we work when on board ships as guest entertainers.
"We're also committed to making sure our crew are the happiest at sea and will be proud to sail with us."
There is no doubt that a happy crew makes for a great happy cruise. The one thing we hate to hear is a crew member who has been loyal to a cruise company for sometimes approaching twenty years saying it is time to move. The crew are great and make the holiday work and I think this is a wise observation from Virgin who are obviously about to poach about 300 crew from somewhere.
Virgin Voyages is looking to for a more modern approach to cruising and they have put a great name to their Lady Ship and as they suggest, if she looks like this she is she's shaping up to be quite a beauty. We also like the Scarlet Lady because the first 35mm movie one of our executives directed was The Scarlet Tunic which won awards and plaudits all over the world. Snap… Branson's new cruise company goes on to use film terms, and suggest the ship is their 'leading lady'. Don't forget we have started a chat site for Virgin. Join our Virgin Voyages Chat
Find your ship's chat site + share your pictures + experiences to help others Our chat sites are not for moaning, not for bad speak, you get automatically removed. There are other sites for critiques and reviews. The Doris Visits chat sites, like the Virgin Voyages, have decided to be different. Positive exchange of knowledge only. Happy cruising.
You have seen this lady before, or versions of her and therefore there is a trade image repeating. She has been seen on other products but never as a mermaid. Take a close look and see the marketing and image people have done exceptionally well with the branding. The Scarlet Lady designed by artist Toby Tinsley, is a likeness of the lady who appears on Virgin Atlantic and Australian aircrafts as well as the Virgin Galactic spaceline.
So we boldly go where no one has gone yet and suggest you might expect all the ships to have such mermaids and all be called ladies, it will just be the colour that changes. Will they all be shades of red, or will they look for colours that have names with slightly sexual or vixen like qualities. Scarlet Lady can have that saucy appeal. We will leave further suggestions to you now that we have opened another lady's box, Pandora.
The Mystical Mermaid is to be the soul and spirit behind the first Virgin Voyages ship. Her name, and therefore the name of our first vessel, whilst seeming such an obvious choice now we all see it was carefully and deliberately engineered brilliance. Congratulations.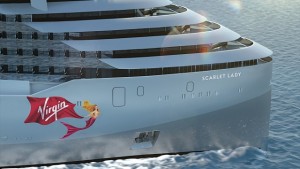 Scarlet Lady. The mermaid's out of the bag! Scarlet is the embodiment of everything this ship represents. She is the figurehead like many old galleons used to have, taking on the role of a goddesses, dedicated they suggest to all important women in society, and that is all, even mermaid figures.
Though beautiful and mysterious in vision, she represents a woman of power – the leader not only on the yet to be finally disclosed first voyage, but also in our efforts to encourage front-facing female leaders throughout their company with the Virgin Voyages Scarlet Squad Programme. This is a great move, it is a programme determined to recruit, support and mentor women and further create opportunities and encourage them to move into operational roles typically held by men. We sense this could really be an additional way they might factor changes.
Now another play on words, the "Vitamin Sea" concept. We love that. It will focus on passenger wellness, relaxation and fun. It appears to be an extension of the spa into everyday living and more. From re-tox at the buffet or bar to de-tox in the spa. So will it be different or just different branding? Our thoughts are it will definitely be different although it will not be aiming to be the cheapest ticket at sea. But, a defined image is good, knowing what you are buying into is good, whereas some cruise brands are often accused of having a confused or lost image or direction.
Being new is an advantage, being so widely determined to be different is fantastically welcome, let us hope they achieve it amongst what we know will also feel very familiar. But expect to see some great new names for things.
The B-Complex: A gym and fitness area offering free classes in strength, spin, yoga and cardio featuring Technogym ARTIS equipment which will look out to sea.
My Beast: Is a Venice Beach playground. Also now seen on some Spanish promenades, it is bent metals where people go and do strength work using their own body weight like pull ups.
Well-being Pool: The pool.
Gym and Tonic Bar: A bar featuring cold-pressed juices.
Redemption: A "mermaid and merman" theme cave with a hydrotherapy pool, mud room, salt room, cold plunge pools, quartz beds and spa treatments. At night, it will host DJ-spun music and dancing.
Dry Dock Salon: A standalone blow-dry bar. and the Stubble & Groom: a barber shop, featuring a pedicure spa.
Information and picture supplied by Virgin Voyages. We now have a newer update, see Does my Aft look big in this …?
Virgin Voyages do intend to be different. We intend to be with them all the way as it makes a great addition to life at sea. And, lets be fair, it will be joined onto Virgin Holidays which is the UK's favourite worldwide holiday company.
Founded in 1985 on the Virgin principles of excellent customer service, value, reliability, responsibility and a sense of fun. We will be fully integrating their cruise program for all cruise operators to Doris Visits during 2019 – join us and share. Click their logo to go there.

Where do you want to research for great ideas? ANTIGUA ARUBA BAHAMAS BARBADOS BERMUDA BONAIRE CANAVERAL COSTA RICA COLUMBIA CURACAO CUBA DOMINICAN REP – AMBER COVE GRENADA GUADELOUPE JAMAICA KEY WEST MARTINIQUE MEXICO NEW ORLEANS PANAMA St THOMAS St KITTS St LUCIA Sint MAARTEN St VINCENT (& Bequia) TORTOLA TRINIDAD & TABAGO