Serenade of the Seas is not a big ship by any means, only holding about 2500 guests, but she looks mighty berth here.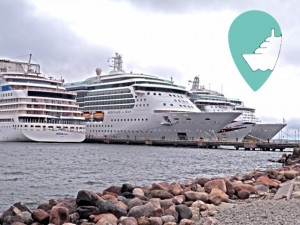 Maybe it is that little edge that makes you stand out, pushing your nose slightly in front. It is like watching a great show on board and one of the dancers just shines, just steps in front and says ' look at me ' in her wonderful 756 seat theatre. She also demands higher quality fuel than the other ships, we kid you not! Driven by a gas-turbine she produces higher efficient speeds with lower emissions than diesel cruise ships.
She is a Radiance class cruise ship. Maiden voyage 2003 sister ships Jewel, Brilliance and Radiance. Chat site for UK passengers. RCI UK passengers chat site click here
10 restaurants: Reflections Dining Room; Windjammer Café (buffet style); Izumi (Japanese); Giovanni's Table Family Style Italian Restaurant; La Cucina; Chops Grille Steakhouse; Rita's Cantina (Mexican); Park Cafe; Chef's Table; Latte'tudes coffee & snack bar; and 24-hour room service.
On the top decks are other services and amenities available to guests: the Day Spa and Fitness Center, Beauty Salon, Solarium (indoor, adults-only, pool area), half court basketball, rock-climbing wall, nine-hole miniature golf course, jogging track, three pools, and three whirlpools.
For Royal Caribbean offers look here.ROYAL CARIBBEAN CRUISE DEALS @ THOMAS COOK Royal Caribbean – SAGA ADULT CRUISE DEAL – click here
Cruise Doris Visits Subscribe. Thank you