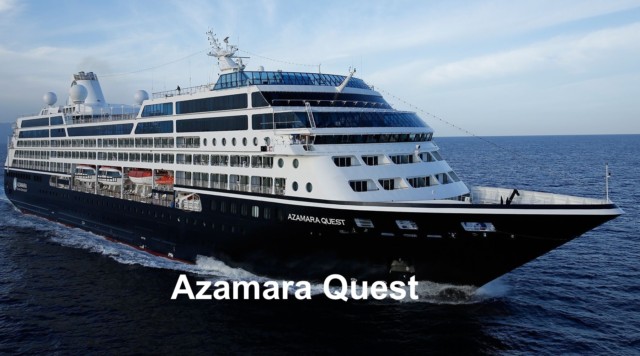 AZAMARA QUEST – a great small ship
The Azama Quest holds just 694 passengers so there is no chance you will feel overpowered or overcrowded. This is a personal cruise where you will soon get to know your fellow passengers, crew and entertainers. She has 408 crew which is almost one to one! And she travels at 18 knots when cruising. She is an R type cruise ship whose previous names have included the stylish Blue Moon, which is what she is – stylish, sleek and individual. She is a sister ship of the Adonia a ship with many fans which has now been purchased to join Azamara Journey in the fleet. As she is so small, like the Adonia she can get into some of the wonderful small islands like Bequia, St Barts and Guadeloupe where we once shot a commercial for shell – tough life!
AZAMARA CRUISE DEALS @ THOMAS COOKAzamara Cruises – Deals via SAGA – click here
It may seem a small ship but their aim is to never let the ship feel crowded. As well as the Discovery restaurant, the speciality dining options on board are Steak C a steak house, and Aqualina a Mediterranean cuisine restaurant. There is also the Wine Celler, Pool Grill, Mosaic Cafe and Looking Glass Cafe as well as lounges.
Azamara is a boutique luxury cruising. Drinks (Select standard spirits, international beers, wines, bottled water, soft drinks, speciality coffees and teas) , gratuities and food are included in these club cruises. However an 18% gratuity is added to your bill for all spa use, so when you look at the price, know it is nearly 1/5th more.
See the page on the Azamara and get the full details of this small but special ship – click here
Cruise Doris Visits Subscribe. Thank you
Join the Facebook AZAMARA CHAT group and let others know why these ships are special.