Say NO to the retirement home. There are people who live permanently on cruise ships – it could be cheaper and you get better service. When we did a few tours on the Aurora in 2017 we joined in Boston and there were guests who had been on for ages. We left to edit, rejoined that ship some 6 weeks later in Venice and there were 26 people who were still on board.
How much does a retirement home cost? Add in the food, the electric, the rates and other costs, now how much? Then think about cooking and washing … no thank you. When Mama Lee's husband Mason died in 1997 he told her to keep on cruising and she took him literally. She also does it in style and at a high cost. She could do it for a quarter of the price but she does it in style. No shopping, no washing and a different menu every night. She is not the only one to live on a ship. What can they possibly see in full service and seeing the whole world not just the Caribbean and popular routes like on Canary Islands Cruise the Fjords cruise or the Baltics. What an adventure!
Cruise Doris Visits Subscribe. Thank you
2017 they estimate 24 million people will cruise and whilst the age group is dropping and cruises get more lively each year, there is still about 28% who are 60 years old or more. That is not too high a figure when you think that the 'grey pound' spend last year was almost half all spending in the UK (source, The StoryTellers).
Join the SAGA CRUISE CHAT – click here
Mama Lee lives on the Crystal Serenity, and we are sure some passengers we see regularly almost live on some of the ships we are rostered to work on. We don't often have deals on Crystal ships, but we do on Cruise & Maritime and Azamara as well as Regent Seven Seas to name but a few. The Crystal Serenity is her Mama Lees home and she never leaves it. Even when the ship goes into dry dock for a refurbishment, she just changes ship. You might consider that could be an extended form of agoraphobia, although maybe not in Mama Lee's case it certainly could be in Violet's. Violet is dealing with such a problem in the story VIRGIN VOYAGE. Mama Lee talks to family each day, which if you know at sea internet costs might be a huge amount of her cost. Violet has no family so just talks to herself and is out there to enjoy life, it is a great story (only the raunchy version is available at the moment). What better place than the playground at sea, but what ship would you choose?
Please subscribe to the Doris Visits YouTube Cruise Destination Guide channel here
If you are worried how to choose which cruise, which ship and where to go, take a look at our how to choose a cruise blog. Why not have a look at the LATE DEALS over a coffee. Doris Visits allows you to SEE THE CRUISE BEFORE YOU CRUISE THE SEA. We have videos of all the major cruise destinations in the world. Please follow us on Facebook and Twitter and share.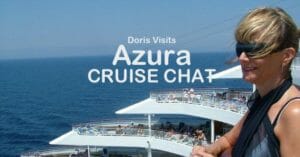 Click the picture or click here to join the Azura Chat site and share your knowledge with others. Azura Chat with Doris Visits. If you wish to become a moderator let us know.
We have over 50 ship chat sites, find your ships chat and community page on Facebook – click here
The easy way to find destination guides – this is where Mama Lee lives – look here:-
DORIS VISITS WESTERN MEDITERRANEAN MENU OF PORT GUIDESDORIS VISITS EASTERN MEDITERRANEAN MENU OF PORT GUIDESDORIS VISITS CARIBBEAN MENU OF PORT GUIDESDORIS VISITS CANARY ISLAND MENU OF PORT GUIDESDORIS VISITS FJORDS MENU OF PORT GUIDESDORIS VISITS BALTIC SEA MENU OF PORT GUIDESDORIS VISITS BRITISH ISLES CRUISING PORT GUIDESDORIS VISITS NEAR UK CHANNEL + SHORT CRUISE W.EUROPE MENU OF PORT GUIDESDORIS VISITS SHORT CRUISE WEST COAST FRANCE PORTUGAL MENU OF PORT GUIDES