The Majestic Princess is very new to the fleet having arrived last year, and she is aimed at the Chinese market and those who wish to explore Asia. Another Royal Class ship, she will look and feel very familiar to lovers of the Britannia, Royal or Regal, but look a little different, a year newer and maybe more grand with its own t'ai chi master. Her 'movies under the stars' screen is said to be the biggest at sea. As a Royal Class ship, she carries 3,560 guests, the Britannia experiment with the missing middle staircase has not been included as the stairs are there.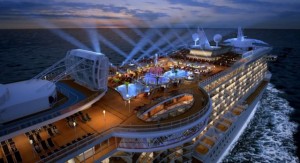 The pool configuration at the top is far more creative and decorative. This ship can be found in the waters of Australia, New Zealand, Asia and the South Pacific and has the Chinese name "Sheng Shì Gong Zhu Hao" on the hull. The name was chosen by Carnival Corporation's Chinese employees and translates as "Grand World" or "Grand Spirit".
The World Fresh Marketplace is the free buffet and there is ample free dining, but there are more premium payment restaurants onboard this new ship. It is worth taking a look as this is a ship to dine out in.
PRINCESS CRUISES UK CHAT GROUP
PRINCESS CRUISES WEBPAGE FOR UK SAILINGS
Sabatini's Restaurant (Italian speciality restaurant, a la carte: offers 3-course Italian/seafood menu; open between 6 p.m. -11 p.m)
Dining Room (midship location; offers "Anytime Dining" for Dinner)
Harmony (haute cuisine Cantonese restaurant, developed in partnership with Chef Richard Chen – Wynn Las Vegas' Wing Lei)
Alfredo's Pizzeria (121-seat; another largest complimentary pizzeria at sea)
Dining Room (forward Dining Room; offers "Anytime Dining" 5:30 p.m. -10 p.m)
Dining Room (aft Dining Room; offers formal dining and two fixed dinner seatings at 6 p.m. or 8:15 p.m.; the "Chef's Table" private dining can be reserved for a premium)
Ocean Terrace (speciality seafood bar)
Crown Grill (160-seat steakhouse/seafood restaurant; on select days serves British Pub Lunch, complimentary)
Trident Grill & Prego Pizzeria (self-service, complimentary fast food bar)
Calypso Cabana (deck side food bar offering picnic baskets)
World Fresh Marketplace / The Court (self-service buffet plus the "East Meets West" street food counter an extension to the cooking area found in most buffets)
Swirls Bar (ice cream).
For more details – Majestic Princess
Join the Doris Visits Princess Cruises chat group – click her
You should dress for a cruise with Princess the same way you would for any stylish land-based resort.
Smart Casual
Guest attire should be in keeping with what they would wear to a nice restaurant at home.
Skirts/dresses, slacks, and sweaters for ladies
Pants and open-neck shirts for men
Inappropriate dinner wear such as pool or beach attire, shorts, ball caps and casual jeans (with fraying and/or holes) are not permitted in the dining rooms. Shoes must be worn.
Formal
When formal nights are held, please observe the dress code in the Traditional Dining and Anytime Dining venues for the enjoyment of all our guests.
Evening gowns and cocktail dresses for women
Tuxedos, dinner jackets or dark suits with a tie for men
Princess offers formal wear rental on all cruises; this can be arranged prior to embarkation.
Dress with an elegance and style that is perfect for all the formal activities on your cruise with Princess. Cruiseline Formal Wear delivers beautifully-tailored clothing directly to your stateroom.
DECK PLANS OF THE MAJESTIC PRINCESSTAKING DRINKS ON BOARD? CAN I? HOW MUCH?
Learn about the very special Princess Luxury Bed
How about reading one of our adventure cruise ship crime novels written by the team here at Doris Visits who have written movies and TV until these books. Paperback, Kindle and audiobooks are slowly loading in 2022
and now as an audiobook