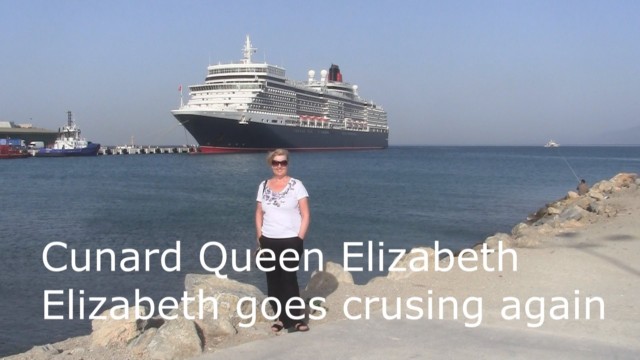 Cunard Queen Elizabeth – a cruisers favourite
Elizabeth goes cruising again for us here at Doris Visits. This is a fantastically nostalgic ship! The staircases reminded us of the Queen's Royal Yacht Britannia now docked in Edinburgh where she shares the top tourist attraction with Harry Potter – what a strange world! The theatre is wonderful with boxes all down the sides. This film is a good look at the ship, not the destinations.
CUNARD CRUISE DEAL @ THOMAS COOK
This was a Greek Islands and Italian idyll cruise. Venice, Korcula, Heraklion, Rhodes, Kusadasi, Piraeus (Athens), Bodrum (Turkey), Katakolon, Massina, Naples and Rome. But none of the destinations are shown, this is all about the luxury on board. See the ship and get a taste of life on board as a passenger.
Cruise Doris Visits Subscribe. Thank you
JOIN THE NEW CUNARD CRUISE CHAT GROUP ON FACEBOOK
See Elizabeth Goes Cruising Again on the Azamara Journey. Follow us on Facebook and Twitter. Click on any of the destinations in Doris Visits to see our detailed films of the destinations by other presenters. There is also a Canary Islands Cruise route on the Azura which has a different itinerary.
Please subscribe to our channel and if you like Elizabeth Goes Cruising Again, please subscribe to them on Youtube.
While on YouTube please also subscribe to Doris Visits.
Clicking the DORIS VISITS COMPARE CRUISE DEALS BOX takes you to a variety of deals and explains how they are all found.
CHAT and share your love of small ships, and answer other peoples questions. Join the Fred Olsen Cruise Chat Facebook Group
Disaster in the Caribbean! The book series has been in the charts for months. Book 3 sees Violet with a new job on board and a new boss in the USA and Caribbean. It does not go well. Adult action romance on a cruise. Follow author Sally Katz by clicking her name and then on the author page on Amazon, click follow. Then as she releases a new book your are informed.
Marella Cruises to USA / Central America – click here to view Marella Cruise's own web site page for – Central America Cruise deals page