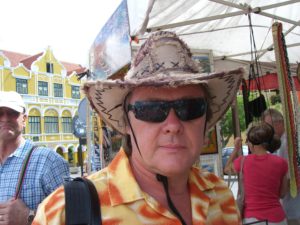 Curacao, the C in the ABC islands is as beautiful as the rest, maybe more so. Willemstad is a world Heritage site and the 18th century pastel coloured houses, the port and the market stalls are all fantastic. It is wear Stuart bought the hat he is so often seen wearing! We stopped there on the Black Watch before going through the Panama Canal many years ago. Taste the Okra Soup! Or be daring and eat the speciality, Iguana, said to be an aphrodisiac!! Check out the floating market, the Venezuelans who sail the 40 miles to sell their wares. You can see both sides of Curacao by crossing the Swinging Old Lady, the local name for Queen Emma Bridge. It is a pontoon bridge that opens to allow ships in and out of the harbour.
Cruise Doris Visits Subscribe. Thank you
Many new cruisers head for the Caribbean or USA coast first. We were keen to get blogs up on the ABC islands and Panama because although we have yet to see it, book 4 of Solo Cruiser is set in these. If you are now trying to decide ship and where to go, there are considerations big, small, lively, quite, adult only etc… take a look at our how to choose a cruise blog. Why not have a look at the LATE DEALS over a coffee. Doris Visits allows you to SEE THE CRUISE BEFORE YOU CRUISE THE SEA. We have videos of many of the cruise stops you might make from St Lucia to Barcelona, from Tallinn to St Maarten. Please follow us on Facebook and Twitter and share.
Violet has found and lost romance by book 3. Before she started cruising she had never had romance, never ever. As an older woman time is running out and she needs to make a change. This romantic read is based around cruises because once she cruises she loves it. That is her romance, well, there is a little more. Sally Katz used the films on Doris Visits to peg her books on! With permission. Each good read shows off a typical good cruise. But it is not about the places or the ships, you will know them back to front, if not you will get to know them. It is about Violet's journey. Warning, there are two versions;
HER VIRGIN VOYAGE is the lighter version, but VIRGIN VOYAGE is the full fat, raunchy version, like 50 Shades. Her Virgin Voyage has all the story just about 2500 words shorter. It is about a woman discovering life late in life, Violet's story ranges three books. The second is a Baltic Cruise, again there are two versions, the third in the USA / Caribbean and there is only the lighter romance version as her story concludes for a while. Book four follows another character you have met and liked. Follow author Sally Katz by clicking her name and then on the author page on Amazon, click follow. Then as she releases a new book your are informed.