One of the most prominent destinations in the northern most part of the Mediterranean, the Adriatic Sea, Dubrovnik is perched between mountains and sea on Croatia's Dalmatian Coast. An UNESCO World Heritage Site, the historic maritime city of Dubrovnik is without doubt the 'Jewel of the Adriatic'. It has a very colourful past and just trying to detail it would upset someone, so let us just say that the names of Dubrovnik and Ragusa ran in parallel for some time and Ragusa was founded in the 7th century. It was the name for a "rocky island" so called Lausa, by refugees from Epidaurum (Ragusa Vecchia), a Greek city situated some 15 km to the south, when that city was destroyed in the Slavic incursions.
Historic monuments and scarred streets tell tales of battles for independence. It is an easy town to walk round and can be done in half a day. The 12th century walled city of Dubrovnik is easy to explore on foot. We have separate films on a walk around the Ramparts – the great walls of the Old Town that are almost 2km long and up to 25 metres high in places. We have a film showing more of the insides of the churches of Dubrovnik, And a Game of Thrones film of Dubrovnik. You will have your feast of sea views and Baroque buildings.
Cruise Doris Visits Subscribe. Thank you
Marella Cruises to the Eastern Mediterranean – click here for Marella Cruise's own web site – Eastern Mediterranean Cruise deals pageSome special points of interest include
the Onofrio fountain at Pile Gate – built in 1438 for people coming into town to wash away any plague germs
Fort Lovrijenac, has become a key theatre venue in the annual Dubrovnik Summer Festival
The 14th century Franciscan Monastery, home to a wonderful statue of the Piéta carved in 1498
The world's oldest pharmacy (est. 1391)
a fort built to protect the freedom of Dubrovnik from the Venetian invasion
Gothic Sponza Palace, now a museum but once a 16th century customs house and mint.
The 18th century Baroque Church of St Blaise, Dubrovnik's patron saint.
Cable car to Mount Srdj – This cable car ride offers a breathtaking vista of the Old Town and the Adriatic Sea, while the aptly named hilltop restaurant allows Panoramic views.
The promenade, Porporela is a sea-gazing meeting place for lovers where they gaze out to sea.Marella Cruises to the Western Mediterranean – click here for Marella Cruise's own web site page for – Western Mediterranean Cruise deals page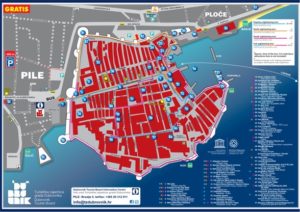 To get your own tourist map, click the picture of our map. You will then have earned a break in a restaurants or cafés in one of the narrow streets, that is if you are not tempted to browse the art galleries, lacework, oil paintings, ceramics, an array of fruit, vegetables, olive oils, honey and fiery local spirits on offer.
Or if you have been here before, try a water taxi to Lokrum Island just off the coast of Dubrovnik, which was the site of a Benedictine monastery for the best part of a century and used extensively in Game of Thrones, especially season 6. Here you can walk around its botanical gardens, nature reserve and onto the nudist beach.
over 2000 minutes of Doris Visits video guides are watched on YouTube alone each day. Please subscribe to our YouTube Channel http://www.youtube.com/c/DorisVisits
In conclusion, though we love cruise routes, this is one we would do over and over again. We love Croatia and hope to cover it again next year. Here are the buttons to the longer films of the individual cruise stops made on this cruise.
Venice evening sail away Zadar Guide Walking the Walls of Dubrovnik Dubrovnik Old Town Game Of Thrones Special Messina Straits sail by Cagliari Guide Gibraltar Glass demonstration Maurice Grumbleweed
Take a look at some of the other cruise routes.
CARIBBEAN CRUISE EAST COAST USA CRUISE FJORDS CRUISE CRUISE INSURANCE MED CRUISE MOVIES MADE AT CRUISE DESTINATIONSCRUISE GREECE ROMANTIC CRUISE BOOKS BALTIC CRUISE ROUTE
Powered by GetYourGuide. Become a partner.