The eastern end of a Med Cruise, and the northernmost part of the Med, the AdriaticCountries surrounded by the Adriatic are Albania, Bosnia and Herzegovina, Croatia, Italy, Montenegro and Slovenia. A gem right on the coast of the Adriatic, is Dubrovnik. The old city has both prospered and suffered because of its position and maritime trade. The Aurora, Oriana, Oceana, Marella Celebration and Arcadia like it here as with many other ships. Great wealth had to be protected and the old 12 century city replaced wooden protection initially with Limestone walls. The walls as they stand now, an uninterrupted length of nearly 2kms or 1.4 miles were built as a fortified double line encircling most of the old city. It has many steps and can be challenging, reaching a maximum height of about 25 metres (82 ft). Be prepared to climb, take water or stop at the many cafes that are now on the circuit. In parts the walls are very low so a keen eye needs to be kept on children. Note the entrance to the walls, a national monument, is by local currency only and it is currently 150 Kuna per person. Local traders and restaurants happily take Euros. You can change money in the tourist office, at one of the nearby exchanges or pay by card. The fee allows one circuit and you will not be able to continue round a second time past the check point you and your ticket entered the walls.Marella Cruises to the Eastern Mediterranean – click here for Marella Cruise's own web site – Eastern Mediterranean Cruise deals page
When working to protect the city there were as many as 120 canons of the walls, which were surrounded by a moat. The walls were reinforced by three circular and 14 quadrangular towers, five bastions (bulwarks), two angular fortifications and the large St. John's Fortress. Land walls were additionally reinforced by one larger bastion and nine smaller semicircular ones. There are a number of gates, originally 4 with two added during Austrian rule. Gate of Pile is the one you are most likely to enter through, Gate of Ploče is on the eastern side the second drawbridge gate. Gate of Buda is on the northern side and was added in the 1900's. Gate of Ponte (1476) and Fishmarket Gate (1381) are in the sea wall areas and near the great arsenal. You will have great views of the harbour that had to be protected. Enjoy the film. See our special Games Of Thrones Dubrovnik film
The views are spectacular so have a camera ready charged and with memory.
Cruise Doris Visits Subscribe. Thank you
CHAT GROUP – Cruise the Adriatic Chat – New Group, be one of the first to join and start a thread on your forthcoming or past cruise by number – CLICK HERE TO SHARE & CHAT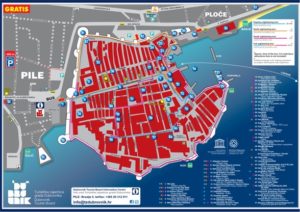 To get your own tourist map, click the picture of our map. For a detailed history of the walls see wikipedia. We also have films on Zadar, Dubrovnik Old City, Dubrovnik's Game of Thrones, Churches in Dubrovnik. As well as these there is a cruise route film Venice, Croatia, Messina Straits and Cagliari.
If you are new to Doris Visits Cruise TV then welcome, we invite you to comment at the end of our blogs, and ask you for follow us on here on www.DorisVisits.com and like us on Facebook and follow us on Twitter and subscribe to our YouTube Channel to get the best from us. We are always looking for a social media persons to help us expand so drop us a line anytime at [email protected] PLEASE SHARE
SEE THE CRUISE BEFORE YOU CRUISE THE SEA.
Want to look around the ships, take a look at our ship tours.
CRUISE INSURANCE THAT EVEN THE CRUISE SHIPS SELL, AND WE ADD NOTHING ON, JUST CLICK HOLIDAY EXTRAS – OR OUR BLOG

Check out some of the great Cruise Routes, our concise films of what a ship offers when it takes a specific route. These are typical routes but we do have films to help cruisers on every popular cruise destination in the world. Baltic Route – Canary Islands Cruise – New England Cruise – Caribbean Cruise (from Barbados) – Norwegian Fjords – Mediterranean Routes