One of our favourite comedians, Funny Tucker is found, if you are lucky on the bigger ships. Those who like the smaller ships may miss out on acts like Tucker. He is (2019) touring with Gladys Knight. Last year he opened for Barry Manilow. Most Christmas seasons he likes to stay near home and normally sells-out a south coast panto.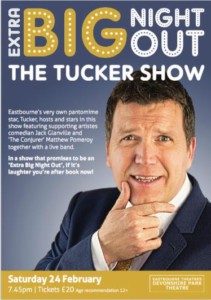 Whilst you might not want to say Funny Tucker with your mouth full, like the Kick in de Kok museum at Tallinn, Tucker is a class act who is so experienced that when parents bring children into his late-night session where children are not supposed to attend, he changes his act and works accordingly. The man from North London who now lives on the south coast is a master at his art!
Tucker's web site is here if you want to support him by dropping him a line.
We have worked with him on many cruises and he was on the last Strictly Come Dancing Cruise with us. As much as we are news bloggers and video reporters, we do not video acts. Just as we don't often video the inside of museums and sites you pay entry for unless we are sending you a message.
Tucker is one of the funniest acts. His act is calm, not at all forceful and charming. He will have you in stitches. Now we have seen him a few times to be conservative with numbers, but we always hear new gags, he always makes us belly laugh. The man is one of the best in his trade and if you get him on a cruise then you are lucky. Go and support him.
Cruise Doris Visits Subscribe. Thank you
We see a lot of acts and a lot of comedians, so when we say six stars we mean it. If he has a spot in his diary you can book him for your event. He is often found in Panto in the festive season. It looks like Eastbourne grabs him most years. Check out his website or follow him on Facebook. If you have seen him, chat on your ship's chat site found on this list (Click the black box).
If you enjoy seeing more about the entertainers you see at sea, then take a look at our show cast! Here is our growing menu of those who work at sea.
Check out some of the great Cruise Routes, our concise films of what a ship offers when it takes a specific route. These are typical routes but we do have films to help cruisers on every popular cruise destination in the world.