Question?What do these three women have in common? Adele, Lulu, and Dusty Springfield?
They have all had number 1 records?
No, they are all Maxine Mazumder. Maxine Mazumder is a multi award-winning and hugely talented singer who is also more than impressionist, she is a chameleon! Maxine has the incredible ability to change into different characters from Dusty to Lulu and Adele and then be unrecognisable in the buffet! She travels the country and the world portraying these artists and it is hard to believe they are all performed by one woman – Maxine Mazumder. She is action for action note-perfect and a wonderfully entertaining lady too in and out of character.
Cruise Doris Visits Subscribe. Thank you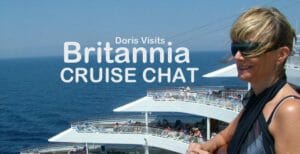 Did you see her on the Britannia? Share here by clicking the picture. It won't surprise you that he was on the 'Bradley Walsh The Wife's New Shoes UK Tour', but Tucker has toured with some legendary greats. Let's chat. or CHAT AZURA. For further information on Maxine follow her on Facebook or Twitter. Find out more about the entertainers working at sea ON BOARD ENTERTAINMENT join their Facebook Pages and & please share with your friends.
CRUISE INSURANCE THAT EVEN THE CRUISE SHIPS SELL, AND WE ADD NOTHING ON, JUST CLICK HOLIDAY EXTRAS – OR OUR BLOG

Check out some of the great Cruise Routes, our concise films of what a ship offers when it takes a specific route. These are typical routes but we do have films to help cruisers on every popular cruise destination in the world.
Want to look around the ships, take a look at our ship tours.