Have you ever seen an aft like this? Yes, they claimed to be different and this is the official released picture from Virgin Press of the aft of the first ship, the Scarlet Lady.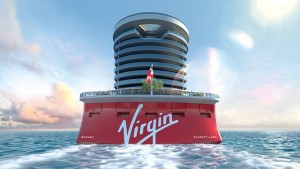 Yes it might seem strange, but then let's think about cruising. It started by converting ships and keeping a ship-shape. Never did anyone say, this is going to be different, a hotel at sea with amenities for the guests. So the amenities have always been fitted into the ship. I like that Virgin have said, this is what we want to give our guests, now make it float.
Daring to be different has always been their style, and there is no doubt this ship, and those that follow will cause a spectacle wherever they dock. They will be the fodder of every comedian, every poor journalist who works on red top based comment of knowing better – but like so much of current day history, only the future will tell us if it works and we are saying well done for going that extra nautical mile.
Virgin Group Founder Sir Richard Branson and Virgin Voyages President and CEO Tom McAlpin have begun to reveal renderings and animations of the nine new public spaces their ships will have. These will be in the Scarlet Lady, their first ship and this is our send up date. The Scarlet Lady now her has her own page under Virgin in our ships menu. They intend to have an innovative program for guests but it looks like they will have a new approach to crew. Well-being for sailors, who look like they might be more of the overall oneness on board was touched upon in the last block, especially their commitment to train and promote women. The is a brand term 'Vitamin Sea.' See our previous update.
They say, 'As part of the "Epic Sea Change for All" brand purpose, Virgin Voyages has committed to delivering transformational and rejuvenating experiences for its sailors. Its 'Vitamin Sea' ideology is inspired by the oceans and their importance in the health and well-being for our planet and our daily lives. The approach also places healthy travel at the forefront of the delivery of its 'Adult by Design' experience for the 18+ sailor.
"We are all so busy with life, work and family that vacations are critical for us to be able to rebuild our energy, so that we can live our best lives," said McAlpin. "With well-being at the heart of everything we do at Virgin Voyages, sailors will come back feeling rejuvenated, not like they need a holiday from their holiday."
This feels like a feeling or a sense of wellness and togetherness they wish to take on board and as they claim be 'naturally intertwined across the entire ship'. The spa activities look like they will expand. You will note one of our moderators and contributors, Gemma, worked in the spa before having four children. She has her own section on Doris Visits and we encourage contributors and moderators. Message us direct via a chat site, or email here via the web site.
This new approach to ship design appears to give far more outdoor and outward looking spaces. The Crow's Nest with its 360-degree view is a secluded sundeck for sunrise and sunset yoga. Adjacent to this area of Zen is the signature Virgin red running track called The Runway that forms a halo-like vision over the ship and where sailors will sweat, strut or skate. Yes, we said skate. This feels very Venice Beach, and see the last blog where that reference came up again. The Runway links to The Athletic Club and it feels like it might be a place for those visit the buffet but avoid all cards and sugar.
To that end, detox and 'retox', seems to be the party hard but look after your body approach to Virgin and it will have a huge following.
Join our Virgin Voyages ChatFind your ship's chat site + share your pictures + experiences to help others
Outdoor training zone, including a boxing ring, strength and gymnastics equipment like you'd find in the New York sports clubs of the 1920's, oversized gaming for outdoor adult play, cabanas for relaxation, and a sports bar for socializing post-workout.
The B-Complex features the ultimate well-being and fitness experience with strength, spin, yoga and cardio in its Build, Burn, Bike and Balance rooms, all with dramatic ocean views. For on-demand fitness, the Burn and Build gyms will each be equipped with Technogym ARTIS, a line of sustainably crafted cutting-edge fitness technology.
After working up a sweat or finding their moment of reflection, sailors will restore themselves in the serenity zone by hopping in the Well-being Pool and boosting their performance with fresh cold-pressed juices, served at the Gym and Tonic bar. MyBeast, an artistic adult playground and fitness apparatus designed by Equilibria, will add a Venice Beach-like atmosphere to the Well-being Pool.
They do intend to be different. We intend to be with them all the way as it makes a great addition to life at sea. And, lets be fair, it will be joined onto Virgin Holidays which is the UK's favourite worldwide holiday company.
Founded in 1985 on the Virgin principles of excellent customer service, value, reliability, responsibility and a sense of fun. We will be fully integrating their cruise program for all cruise operators to Doris Visits during 2019 – join us and share. Click their logo to go there.

Where do you want to research for great ideas? ANTIGUA ARUBA BAHAMAS BARBADOS BERMUDA BONAIRE CANAVERAL COSTA RICA COLUMBIA CURACAO CUBA DOMINICAN REP – AMBER COVE GRENADA GUADELOUPE JAMAICA KEY WEST MARTINIQUE MEXICO NEW ORLEANS PANAMA St THOMAS St KITTS St LUCIA Sint MAARTEN St VINCENT (& Bequia) TORTOLA TRINIDAD & TABAGO