The African Queen is great cruise, but we rafted down the white water as well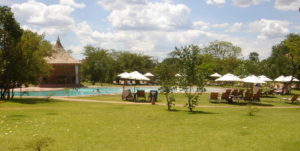 Zambia was a complete surprise for us. Our travel agents suggested a three night stay on the way out to South Africa, we took two, wish we had stayed a week. We stayed at the Zambezi Sun and the Hotel was exceptional, and it felt like we were in Africa, not just at a resort. It is a great stop over if on the way to meet a Fly Cruise.PORT GUIDES – WESTERN MEDITERRANEAN MENU OF DESTINATION GUIDES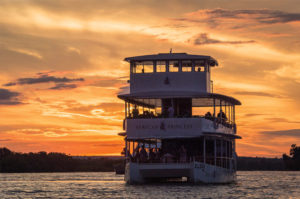 The African Queen, a triple deck 70 foot catamaran and the slightly smaller, but equally luxurious African Princess. There are other boats available like the Livingstone. All offer the charming combination of the mighty Zambezi River and gracious hospitality; unforgettable experiences that will take you back to an era when time stood still.PORT GUIDES – EASTERN MEDITERRANEAN MENU OF DESTINATION GUIDES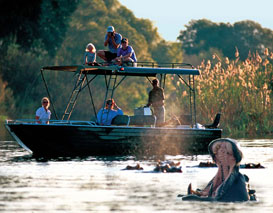 Travelling the Zambezi on a tour, watching the sun go down, and seeing the animals that close was a combination we will never forget, and we have done a jeep safari, and done tree tops which we also rate highly. This was totally different.
Our hotel was on the river and our treats were on a African Queen type river boat, the Livingstone and this film is of the smaller boat which raced us towards the Victoria Falls and then slowed down to sit very close to hippos and elephants. We have been meaning to dig this old mini DV footage out for ages and so glad we did. Just for the memories and sunset.PORT GUIDES – CARIBBEAN MENU OF DESTINATION GUIDES
The Zambezi is the forth longest river in Africa and it flows into the Indian Ocean. From Zambia it is more than 2,500 kilometres before it hits the ocean, and you would go through Eastern Angloa, Namibia, Botswana, then back between Zambia and Zimbabwe before crossing Mozambique into the ocean. So your river cruise is likely to be land based, from the safe and wonderfully enchanting Zambia and focus on the biggest feature, Victoria Falls. We also white water rafted the rapids, said to be the hardest in the world, and did the craziest zip lines we have ever seen. But this is a video of the sheer peace the river can share above the force of the roaring waters which drive at least two power stations. The Kariba dam powers Zambia and Zimbabwe and the Cahora Bassa Dam which powers Mozambique. The river is so powerful it could probably power a huge part of the world. Find your ship's chat sitePORT GUIDES – CANARY ISLAND MENU OF DESTINATION GUIDES
Hippo's are easy to find, Nile Crocodiles are plenty so we did not go swimming. The woodland at the side supports Elephants, Buffalo, Zebra, and Giraffes. The Waterbuck can be found but has been much hunted. Bird life is plenty, from the Egret, Pelican, Heron to the African Fish Eagle. There are Monitor Lizards and much else should you venture that way. The guides on all the tours seem well informed and funny. There is not much to dislike. As with most places in a world that is so easy to travel around, all you have to do is get yourself there. Maybe a World Cruise leg, and get off somewhere near. Short flight then a local tour. So with your interest tickled if only for some virtual research, what might this include? Well, Cunard, the Silver Whisper and Viking Sun all like Africa, and include the lush islands like Mauritius, where we were off to next on this trip shown here. But they might stop and let you off at Cape Town, or Port Elizabeth but Durban is nearer, or nearer still Maputo, Mozambique. We went from Zambia, to Johannesburg, stayed a few days then went to Mauritius. So who goes where? Fred Olsen's Boudicca stops a few times on the South African route. Anything is possible…
Fred Olsen gets you to South Africa P&O Cruises to Cape Town
Cruise Doris Visits Subscribe. Thank you
They bungee jump from this bridge which was not far from our fantastic hotel. It is a vast drop over the water. The bridge separates Zambia from former Rhodesia, or Zimbabwe as it is now known and it is fiercely guarded and you cannot cross. It is amazing how different the two counties can be just separated by this bridge.PORT GUIDES – FJORDS MENU OF DESTINATION GUIDESPORT GUIDES – BALTIC SEA MENU OF DESTINATION GUIDES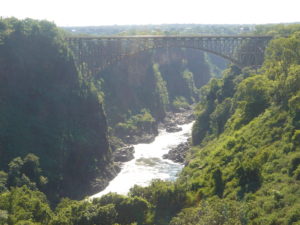 We did not do the bungee but a sheer jump off the gorge. A 160- foot sheer drop. You reach a speed of 180km/hour in this drop which is called the Gorge swing. It is a strange use of a swung wire that just lets you drop then slows you down by clever use of slackness in the wire. The video is on an old tape format that we will get converted, in the mean time here is someone else's because you need to see it. It is a breathtaking experience. Interested in the Zambezi, see the Gorge Swing and Zip Line Were we mad? Yes…. and even more mad to have white water rafted down what is one of the hardest rivers to travel. Here is the end picture and video to prove we did it. That was our raft. Team Doris!
Cruise Doris Visits Subscribe. Thank you
I can highly recommend Zambia and will repost this when we convert the old footage. In the mean time it stays in our bucket list and world adventure area. It is certainly not cruising, though given the water slides and zip lines found on some of the newer ships, maybe it is totally on point.

PORT GUIDES – BRITISH ISLES CRUISING DESTINATION GUIDESPORT GUIDES – NEAR UK + SHORT CRUISE W.EUROPE MENU OF DESTINATION GUIDESPORT GUIDES – SHORT CRUISE W. COAST FRANCE PORTUGAL – DESTINATION GUIDES