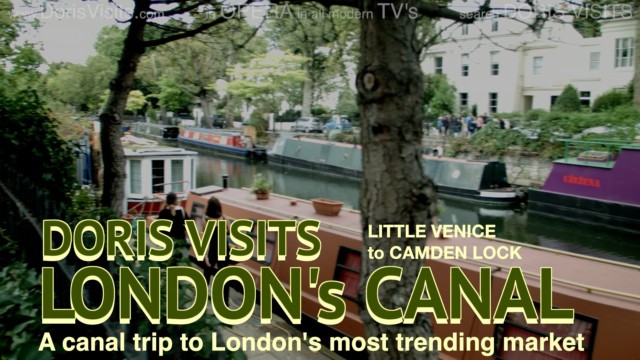 Waterbus Canal Tour – Many Londoners never visit their own city, we were guilty of that too. So when we started the world travel series we charged ourselves with trying to get to some unusual but simple tours of London between foreign travel.
The Canal Boat is a very simple and cheap one and it runs from Little Venice, you can stop off at Regents Park Zoo, and it goes to Camden Lock. If you book the Big Bus with us before 31st Dec 2017 Doris Visits has a code that works with our link, that gives you 12% off. BIGBUSTOURS12
Little Venice is near Warwick Street Station. You want to go over the canal on the road bridge and the bus stops next to the canal restaurant. There may be a queue waiting. It seems busier in the morning. Boats run to 5pm, the last return boat is at 4pm.
The Regent Canal was fully open by 1820 and went down to Limehouse on the Thames. The waterways were essential transport for goods and barges could carry 20 tons. They were famous for carrying iron, steel, wood and coal, but also carried petroleum and gunpowder with little regulation. One barge, The Tilbury, the third in a train pulled by steam tug caught fire and exploded under Macclesfield Bridge, now also known as Gunpowder Bridge, destroying it, killing the crew and effecting buildings and animals a mile away. I say animals as you will see from the film, it is right next to Regents Park Zoo where the animals went into distress and a regiment of the Horse Guards were brought in to keep control. The designer Nash, who designed Buckingham Palace was on the board of the canal. He left the detailed design to one of his assistants, James Morgan, who is credited as chief engineer of the canal company. Work began on 14 October 1812.
Cruise Doris Visits Subscribe. Thank you
As other transport become popular, there were many attempts to close the canal. One project was to use the route as a railway. However, it survived with many spikes in its use including war times. The big freeze of 1962 closed the canal and it never recovered from tradespeople turning elsewhere for transport and it is now permanent moorings for many barges converted into Narrow Boats where people live.
Regents Park Zoo
There is an official stop here. As you pass through, the Aviary is on one side and the Hyenas on the other side, then after the zoo are the incredible buildings which are now residents for many embassies.
Camden Lock Market
The boat stops at Camden Lock the place of so much history from its trading days as a warehouse centre to the new market and music centre. The market attracts over 150,000 people a week, the music venues like Dingwells are as famous as the bands who have played there. The variations of street food seems endless and can be for small change.
Feng Shang Floating Restaurant
The restaurant is very famous and stands proudly on a barge in Cumberland Basin in London's Primrose Hill area. Hand crafted in the 1980's it was London's first floating restaurant. The haunt of nobles and stars. here is a small sample of the menu (Aug 2016)
Feng Shang Special Platter – Crispy King Prawns in Wasabi Sauce, Seared Live Japanese Scallop and Soft Shell Crab £ 14.00 (per person)
Feng Shang Mixed Hors D'oeuvres – Vegetarian Spring Rolls, Imperial Spare Ribs, Crispy Seaweed, Sesame Prawn Toast, Salt & Pepper Squid and Salt & Pepper Prawns £ 10.50 per person (Minimum 2 people)
Salt and Peppercorn Lobster Tail, Crispy Fried with Salt & Pepper, Spring Onion and Fresh Cut Chilli £ 38.00
Seafood with Mixed Vegetable Wrap £ 10.00
Vegetarian Lettuce Wrap – Shimeji Mushrooms, Onions and Baby Corn served in Lettuce Cups with Classic Vegetarian Brown Sauce £ 9.00
If you are in London and want an unusual place to find and have a cocktail, have a look at the oldest restaurant in London in our film on Lillie Langtry.
If you have never cruised, and we are mainly a cruise site, then click here to see how to look at what cruising is. Why not have a look at the LATE DEALS over a coffee from your arm chair? If you are new to Doris Visits Cruise TV then welcome, please sign up to our Facebook Page and share with fellow cruisers. We are at sea every month of the year somewhere and post new films of cruise destinations each week.  Facebook