Les Trois Vallées is such a vast area of mixed shopping, dining and rich hotels to pensions anyone can ski there. A wide selection of runs and family areas but the resorts are very different. One area has almost no bars, others have many bars. You will see. Many of our cruisers like to golf and ski, we have a little of those for you, but cruising is this sites main activity. So as you seen down the mountain trying to hit the magic 100kph in your madness, just think you are travelling 5 times faster than many ships with no metal protection round you. Three Valleys has always been a firm favourite, take a look at Courchevel.LOOK AT OUR GREAT COURCHEVEL & THREE VALLEYS DEALS WITH ON_LINE BOOKING DISCOUNTS, LIFT PASSES AND SKI RENTALBad Knees? We have a suggestion Insurance on and off Piste. We can help
Cruise Doris Visits Subscribe. Thank you
CHECK OUT THE HUNDREDS OF LATE SKI DEALS The Three Valleys claims to be the largest ski area in Europe with 600 kms of maintained piste. The three main ones are Meribel, Courchevel and Val Thorens but the area also includes La Tania, Les Manures and St Martin de Belleville. The magnificent scenery stretches from the Mont Blanc Massif in the north to Les Ecrins Massif in the south, as well as unique views over the Swiss and Italian Alps to the north and east. It is an impressive place to ski.
You can ski this area on any budget. Students fill Val Thorens at certain times of the year, best avoided! Courchevel is posh and expensive although there are many options for chalets that are reasonable. Meribel is probably slightly less expensive. Then each of the resorts has areas that are cost separated. Courchevel at the top is very plush with few bars, the mid level has many bars in the streets, and the lower level is smaller. It follows a pattern in many resorts and that is because the snow is normally better the higher you go.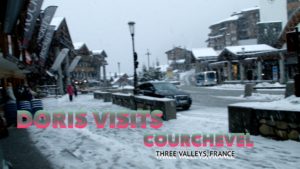 Meribel has the better apres ski, and there are some bars on the Meribel side of the mountain, which, if you visit, when staying in Courchevel you need to keep an eye on the clock or plan for a taxi. Taxis know that and will be waiting, because if you fall into the Meribel apres ski mode, you will continue at the bottom in a late apres ski bar with live music.
Old legs but still want to ski, see Stuart's blog on the secret magic gadget that allows him to ski, at over 60, with two replacement knees!
CHECK OUT THE HUNDREDS OF LATE SKI DEALS Save money before you go … you can never have too many dry socks. Buy all you kit before you go. France is expensive this year. It is amazing how hard it is to get a taxi anywhere in Paradiski after about 8pm. The drivers do so well that they don't need to stay up all night and the French still don't seem to allow Eastern European drivers to work as taxi drivers or for that matter English Ski Instructors to work there unless they pass an Olympic like speed test which has nothing to do with teaching. We paid 25 Euros for a 3 mile run back to 1600 in Les Arcs. The food is expensive, we paid well over 75 Euros for a meal and wine with no starter or dessert so use the deli and stores to make it work.
CHECK OUT THE HUNDREDS OF LATE SKI DEALS Bad Knees? We have a suggestion Book ski hire online in advance otherwise the discount deal through the chalets is no more that 35% off list. The cost of items in the ski shops is huge, with ski socks over 30 Euros and gloves over 100 Euros, so buy before you go, the same can be found on Amazon, see below for useful links.LOOK AT OUR GREAT COURCHEVEL & THREE VALLEYS DEALS WITH ON_LINE BOOKING DISCOUNTS, LIFT PASSES AND SKI RENTAL
CHECK OUT THE HUNDREDS OF LATE SKI DEALS There is also a Les Arcs app. Huge, which allows you to experience the area. Higher and Faster. Click here.OUR SKI DEALS IN FRANCE OUR SKI DEALS IN AUSTRIA OUR SKI DEALS IN ITALYOUR BEST SKI DEALS – UNSOLD CHALET SPACE BROWSE ALL SKI CHALETSOFF PISTE SKI INSURANCE DEAL