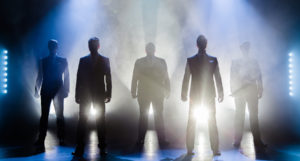 I have never been to an opera so this is a treat of an act I never miss. Whilst I might not be an opera fan I am a huge fan of The Opera Boys. Their act, now over 5 years old, this small stable of the countries top tenors have been delivering a stunning blend of music that ranges from pop to opera and back again. It is a powerful and emotional show, both funny and totally engaging, normally a duo on board ship. This is a crafted masterpiece of light-hearted entertainment. The Opera Boys completely dispel the myth that opera is boring because they are natural showmen who deliver a warm and wonderfully entertaining show that is not to be missed!
They all have voices trained at London's Royal Academy of Music, and they have taken that round the world on P&O ships, as well as to top corporate venues and weddings as well as playing leading roles in London's West End and on Broadway in New York. They have also performed as backing vocalists for many big names including Tom Jones, Elton John and Russell Watson, and there has even been an appearance on The Eurovision Song Contest. They can sing, but it is far more than that. If you miss the show you will hear the passengers on the ship talking about it all the next day and you will be at their second show. They really entertain!
Cruise Doris Visits Subscribe. Thank you
Find out more about the entertainers and show cast you see at sea & share with friends.
Next year they are on a national tour, so their dates on ships may be reduced a little. My guess is you will see them somewhere. Click here to take a look at their site. For a list of their dates and where to find them, click here. If you want something special for a special venue, then speak to Rob.
Essentials – cruise travel labels and our cruise crime novels – oh, and the seasickness bands.

The Port guides here on Doris Visits are a great way to remember your cruise and share with your friends. The crime novels are a whole new experience. You may not have been to the ports in the novels, you certainly won't have been to the parts of the ship they use. All the cruise crime novels will make you feel like you are in the adventure and on the ship – dodge the bullets and stay out of the romance. Ship and cruise accurate, the novels are a great way for new cruisers to discover a ship too. Please share the Amazon link. .CRUISE SHIP HEIST https://amzn.to/2GKQBIp

Cruise Doris Visits Subscribe. Thank you

Enjoy your cruise