The SAGA ocean-going cruise ship, the Spirit of Adventure, is one of the newest ships at sea.
SAGA refers to itself as a boutique cruise line. We looked up the meaning of 'boutique' and the phrase that fits is a small company that offers highly specialized services or products. Its product is for those 50 or above, but it specialises in the great care of those who may need a little more help, some maybe a little older. On our cruise, with them, the average age was said to be 77, and we are not sure if that included the crew but it probably included guest artists like the 19-year-old drummer and the rest of the musicians and acts, because they are full guests whereas the resident hosts and musicians are crew and wear badges.

There is normally a Chaplin on board, the menu is traditional and the speciality restaurant should be informed if you like spice when you order. After our first meal, we asked for a spice level of 10/10 and it was great.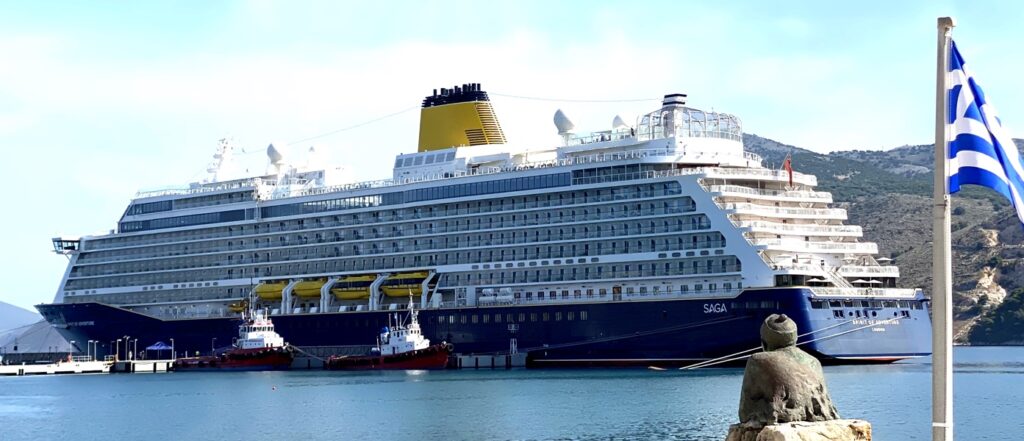 The all-inclusive tours normally have space as they tend to be panoramic type tours. That buzz word panoramic on all cruises tends to mean a coach journey seeing the sights, with one or two photo stops. Of the three we took, one was just that with the toilet stop longer than the photo stop, the second was a museum with lifts plus a coach tour (Ephesus), and the third would have been tough for anyone with walking difficulties and they clearly said that. That tour also included a museum and was by far the best for us. (Troy). Our film of the three comparing the tours is here.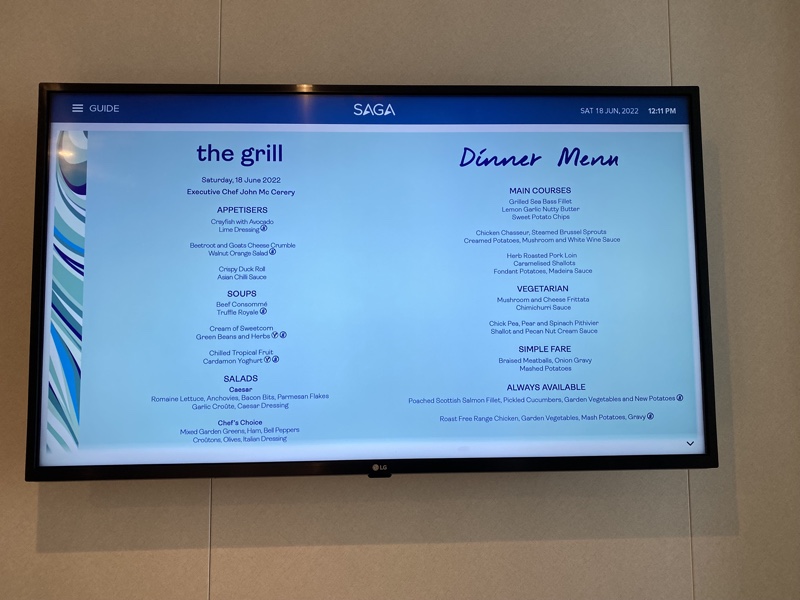 Back to the ship. The TV is great, very modern, with biographies, loads of movies and talks from the captain and crew plus menus and other information, the daily paper and events. I guess these will soon be on an app as they have gone this far. There are very set dining times, breakfast ends at 10 am. Lunch ends at 2 pm, and dining is over early. Often both salad options on the menu had meat in (see menu above), and sliced turkey will have pork sausages and bacon laying on it in the serving bowl.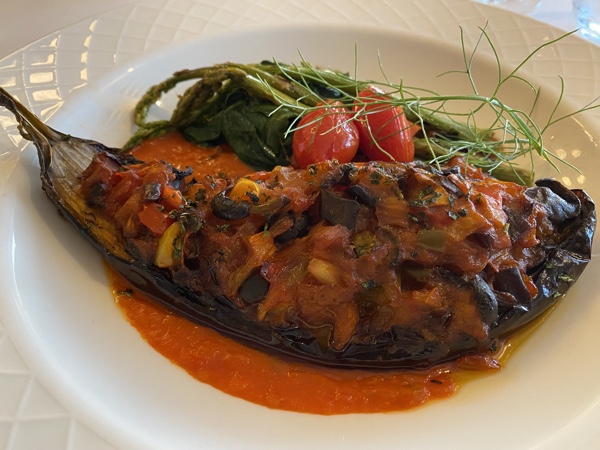 There is room service which many who rarely venture from their rooms take advantage of, and the waiters are dressed butler-like. There is only one show, then the ship goes very quiet. The upstairs Britannia lounge will have a small gathering and the guest entertainers are normally there and the hosts have to dance until 11.30 which is similar to Cunard. A trio backs the cabaret act, and the house band is a trio with a singer. There are some sail-away events, either a duo, the house band or the hosts.
The ship is very new in design and has many new features. These include the five vertical fire and flood zones (unlike other ships they number their zones with Zone 1 starting at the back, zone 5 being the front and a helicopter rescue area that was used during our cruise. (film). Having two separate power generator plants, each with two generators (nine-cylinder diesel) and them being away from each other means a fire or flood in one area allows the ship to function. They can produce up to 6900 volts!
Right down to USB sockets to charge your device not just in your cabin and in the library but in other places on the ship, it is a ship designed to meet the future of cruising. The use of an electronic device to read or listen to an audiobook is definitely a nod to the future too, as there are no real books in the library (apart from the book swap pile). We can confirm that is where the market is because our own books are read mainly in the Kindle library and sell more on Audiobook than in paperback. If you are new to our cruise crime series, start at the beginning and get to know the characters. Cruise Ship Heist is book 1 although each is a separate story and can be read as a stand-alone novel.
The fins or stabilisers are side fins that are pushed out hydraulically and operated independently by a computer driver sensor to stop the ship from having a bad rolling motion when the sea is rough. The Captain suggested even with a side wind the tilt was expected to be no more than ten or eleven degrees. Being a small ship, and the smallest we have been on for some time, they do move more with the sea than bigger ships. The pitch front to back, or up and down is noticeable so if you suffer from sea-sickness choose to stay in the middle and low down. Also, pack the wristbands.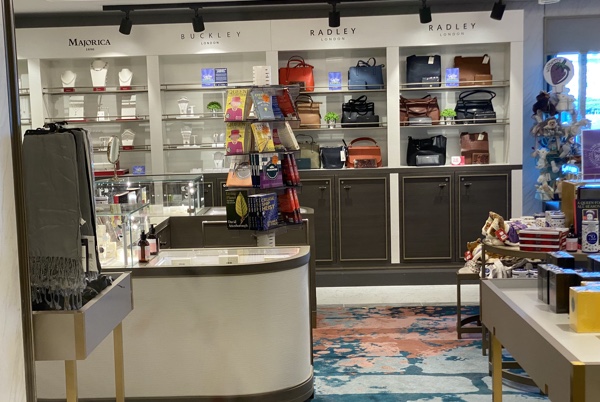 There is a tiny shop on board and small jewellers, but this all-inclusive ship does not work on the need to sell. You are not chased by the waiters like you are on ships that have to meet targets. There are also two bow propellers in tunnels through the ship to help side manoeuvres and parking at the birth (the modern version of side thrusters).
The manoeuvrability of the ship is fantastic. It has 2 x Siemens SISHIP SiPODs that can swivel a full 360 degrees (on a large cog driven by 4 x internal motors) meaning the ship can pirouette. The electric motor that drives the high skew propellor (that pulls the ship rather than pushes) is in the pod (one in each), not the ship, which means no shaft and less vibration.
The small ship is not actually small, and it dwarfed the R-class Azamara ship next to it in Lisbon. At 236 m long it keeps at 999 guests to be referred to as a small ship. However, it is roomy and spacious, though the speciality restaurants get busy as people look to sample the more adventurous food.
The top speed of 18 knots was beaten by a run at 19 knots during our stay
During our 4-week cruise, the ship was half full. 524 guests and 535 crew were on board. The following amounts were consumed.
Lobster main coarse on formal night

5 tonnes of chicken

nearly 0.5 tonnes of Lobster
85,000 eggs
3,000 ltrs of ice cream
15,000 bottles of wine
1,500 bottles of liquor
Incineration and waste are done at least 12 nautical miles out, and they have the latest ecosystems and incinerators inside. There are three SLCE water makers and each can produce 10 tonnes per hour. There is a storage capacity of 1,400 tonnes of water. The fire-fighting system is also the newer vapourised water approach. This means a mist of vapourised water is used to consume the fire, but uses less water and gives less of a flooding problem than when fighting fire with sprayed water. There are two fixed pump areas, each with 14 pumps, ready to be used for fire fighting. Hot steam is also pumped around the ship from a couple of boilers, to heat the water. But the ship also uses exhaust fumes to reheat. SAGA WEB PAGE
To keep you cool there are 4 x chillers, each with 6 compressors. These are used for cooling and air-conditioning. The ship still uses external seawater to cool the engines, and this is via scrubbers (filters) in the 'sea chest'.
It is very heartening to know that the ship can remain afloat with two of the five watertight sections flooded. That it uses two types of fuel (14,500 tonnes fuel capacity) so carries the cleaner gas oil when a port demands, meaning better access to destinations. At full speed it uses 70 tonnes of fuel a day, and 40 tonnes when cruising. On a port-day (8am to 5pm) it will use 6 to 7 tonnes.
The air rescue area at the front of the bow is only overlooked by 4 master suites. This deck is normally a crew relaxation deck on most cruise ships, so on these ships, the crew get the court area on deck 14, which means no ball games, no walking football. Cabin Video here.
987 Guests | 6 Lifts | 540 Crew | 236m or 774.3ft length | 102.4ft beam | 58,250 GT | speed 18kn | Built Meyer Werft | Launched 2021
This is our own film of the ship, showing what it has to offer. Please share and embed.
Please subscribe to the Doris Visits YouTube cruise port guide channel here
Please follow the Doris Visits Facebook page