Carnival have ordered four Excellence Class ships, the first will be named Iona. However, we ask has one already arrived? The Helios Class at Aida has been floated out. The AidaNova. You might consider the Hyperion Class an equal class to the Royal Class, and if so, the Helios Class might give clues to the Excellence Class. The Helios offers up to 6,000 guests over 20 decks, 337 meters long, 42 meters wide which is daily standard for many ships, 184,000 GT.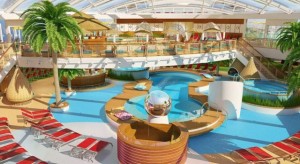 There are 23 bars and 17 restaurants, a casino, a water park, rock climbing walls, a gym and spa. The ship has a tropical theme. It will have the Pepper Robot to assist guests, that speak three languages.
Go VIP in the two-storey penthouse suites with floor-to-ceiling windows. AIDA CRUISES – UK Chat here We have often suggested that using foreign ships, where the first language is not English could help those learning a second language. These ships are used by some British, they do have the Pepper Robot employed across the ship to dance with you, be friendly or assist guests in any of three languages. They are found on Costa and Aida both Carnival companies. So this ship could be the future, it could have a little of the Iona about it, the Iona might have Pepper Robots on board.Join your favourite ship's CHAT & COMMUNITY on Facebook – click here to see
It runs on liquefied natural gas instead of diesel, some areas only allow such ships in their sea areas. It is the future and a bid to be more environmentally friendly, like solar panels now being seen on many cruise ship roof tops. Carnival also has plans to remove all single-use plastic onboard by 2022. AIDA CRUISES – UK Chat here
Cruise Doris Visits Subscribe. Thank you
This is the AidaNova. To find out about other ships and how copies run across brands trawl our SHIPS MENU See how Carnival has many other Britannia Ships too, and still two others of that class being built for their other cruise arms. See the options of ships.
See the spectacular launch party here. Launch Party Video Iona's first cruises are in the Fjords, and you can book now. See the pre-booking Click here to choose a date to see the new ship
If you have booked your cruise, then look at our own filmed destination guides.PORT GUIDES – WESTERN MEDITERRANEAN MENU OF DESTINATION GUIDESPORT GUIDES – EASTERN MEDITERRANEAN MENU OF DESTINATION GUIDESPORT GUIDES – CARIBBEAN MENU OF DESTINATION GUIDESPORT GUIDES – CANARY ISLAND MENU OF DESTINATION GUIDESPORT GUIDES – FJORDS MENU OF DESTINATION GUIDESPORT GUIDES – BALTIC SEA MENU OF DESTINATION GUIDESPORT GUIDES – BRITISH ISLES CRUISING DESTINATION GUIDESPORT GUIDES – NEAR UK + SHORT CRUISE W.EUROPE MENU OF DESTINATION GUIDESPORT GUIDES – SHORT CRUISE W. COAST FRANCE PORTUGAL – DESTINATION GUIDES