MARELLA CRUISES (TUI) use Newcastle as a home port, a port also favoured by Fred Olson.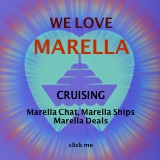 But TUI is a global brand and own an airline and a holiday company so the options to base ships at foreign ports open up and fly-cruise becomes easy. You can fly to most cruise ships, in fact, we have flown out of Birmingham on a TUI flight to get a P&O ship. The port of leaving is important, but so is the choice of ship as well as the destination. Marella aims at a British audience, the onboard currency is GB Pounds. There is no need to tip and from May 2019 all the fleet will be all-inclusive.
The car park at the Port of Tyne is normally open between 0700 and 2000 and the first 4 hours of parking is free so it is ideal for pick up and drop off. But lost tickets are charged at £15 so don't lose the ticket. By road, follow the signs northbound on the A19. For directions, our address is Cobledene, North Shields, Tyne and Wear, NE29 6EE. You can contact the Terminal on +44 (0)191 257 1373 should you have any problem. Newcastle railway station is located to the South of the city centre and is easily accessible from across the UK. Once there, you can get a taxi which would cost around £15. Journey time is approximately 20 minutes by car/taxi.
We still say choose your ship first because this is where you will live eat and be entertained. Choosing a ship needs consideration. TUI have seven ships and they are all family ships. They tend to base out or a region in the world and cover the most popular resorts. We have tried to give a flavour of the ship's destination with the ship.
Port of Tyne, Newcastle Cruise Terminal London Intl Cruise Terminal, Tilbury
SEE THE CRUISE BEFORE YOU CRUISE THE SEA. Please follow us on Facebook where our main page has around 85K views a month (2020) and share. CRUISE DORIS VISITS is Cruise Chat, Cruise Port Video Guides on YouTube with around 100,000 views a month (2020), and page-turning Cruise Crime Novels. Cruise Ship Heist, Serial Killer and Laundry Wars.

If you have a better video, or would like to shoot one with our help, go to the chat site and DM us. We love to help and TUI fans made our Discovery video.

Click here for your latest official

Essentials – cruise travel labels and our cruise crime novels – oh, and the seasickness bands.

The Port guides here on Doris Visits are a great way to remember your cruise and share with your friends. The crime novels are a whole new experience. You may not have been to the ports in the novels, you certainly won't have been to the parts of the ship they use. All the cruise crime novels will make you feel like you are in the adventure and on the ship – dodge the bullets and stay out of the romance. Ship and cruise accurate, the novels are a great way for new cruisers to discover a ship too. Please share the Amazon link. .CRUISE SHIP HEIST https://amzn.to/2GKQBIp