Cruisers love the fantastic entertainment, from TV stars to west end shows. They may mention food and price in a long sentence, but they will mention entertainment. There is no where else, except maybe Las Vegas where it is so easy to see so much. But in Vegas one show can cost the price of a cruise! Maybe this is why entertainment continues to be in our top three blogs. Apart from the top West End musical stars who sing in the main theatre, the stage often finds an act that not only works at sea but on television. Jeff Dingle as Bruno Mars is certainly good enough for the premiere episode of BBC 1's show Even Better Than The Real Thing. Manuel Martinez followed Jo Brand and Dara o'Briain live at the Hammersmith Apollo.
Kai McKenzie has just signed a big record deal in Canada, his Michael Michael Buble tribute is as good as the real singer and it is rumoured he is the Christmas special of Even Better Than The Real Thing. So, we have just added Jimmy Love as Elton John, TV's Hilary O'Neil the wonderful Maxine Mazumder who does both Dusty Springfield and Adele, and then there is Paul Ruck who is a faultless Eric Clapton. There is a separate blog on how people get jobs on board as entertainers. We wish we could add more but the destinations and tours come first and our IT department are stretched, especially now we have added chat sites. There are more stages on the sea than in the West End. If you train in the arts or at stage school it could be where you work while seeing the world. Maybe a a bit of research on Doris Visits. As well as the theatre shows, this is where you will see great acts, from Darren Day to complete musicals put on at sea. It offers entertainment for everyone because family ships see families cruise together and you can all be doing different things yet holiday together.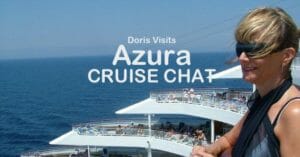 Click the picture or click here to join the Azura Chat site and share your knowledge with others. Azura Chat with Doris Visits. If you wish to become a moderator let us know. It will then link you to the other chat sites for other ships.
Entertainment is a massive part of cruising and now has its own MENU please pass by and share it. Not least the huge events like the Strictly Come Dancing Cruises or the Rock The Boats, the American one of which has Sammy Hagar this year or the daring erotica theme cruises or the Australian one that had our good friends Status Quo on board. We are talking big entertainment. We are talking Mamma Mia, Grease and We Will Rock You on stage at sea. On almost all ships there is a theatre, like a West End Theatre. Huge, fully equipped with an in-house production company, a dance and singing team and a small orchestra. Then add leading men and women from the top west end shows like The Jersey Boys, Les Miserables, Miss Saigon and Phantom. TV stars and TV comedians. Some of the best comedians around like Tucker. There are not many places in the world where you can finish dinner, walk a short stroll to be entertained then just get the lift to bed. Doris Visits has not yet put anything like all the stars up, but last cruise we saw a move for move Neil Diamond, and great Tina Turner … and I have seen the best Cliff Richard Tribute.
Ships have theatres. Big ships have 1,000 seater theatres. Comedy from great comedians like Manuel Martinez and our old friend Taffy! Then classic stars like Roy Walker. Then just when you thought that was enough they come at you in groups like the Opera Boys or 4Tunes. They sing pop, they sing classical. Ben Makisi will bring tears to your eyes. You could stay in your room and watch TV, you could go to the bar and do Karaoke, you could go and play Bridge or sit in one of the bars listening to a pianist or a duo, but whatever you do you have a choice each and every night. If you wonder how they find the show talent, look here. The bigger the ship, like the Britannia, the more the choice with their extra night club, the Limelight club where you can see Madeline Bell one night and Eric and Ernie another and that is where we saw Darren Day who was amazing, on a strictly cruise. Days before Peter Andre had been on the main stage upstairs.
The Limelight club normally rotates four menus, it is a three course menu because you are there to watch an act, it is like a speakeasy. As we are official affiliates of P&O, you can book your holiday here now or if you have booked already and have your details which will all come via the internet and you will be sent tickets and plans, you can book a table at the Limelight Club as well as excursions via you cruise planner below. The internet is a wonderful thing!
P&O EARLY DEALS Menu 1 Menu 2 Menu 3 Menu 4 P&O LATE DEALS
BOOK A TABLE – GO TO YOUR PERSONAL P&O CRUISE PLANNER HERE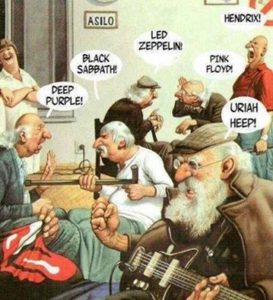 There are trends now on the ships as they compete. Some of the acts, especially the comedians, are now asked to do two 30 minute shows not 45 minutes, and then a third 'late night show' as the audiences are getting younger on the ships and wanting to party later. This year 54 million people will cruise and only 28% are now over 60. New ship designs with attractions show the depth of families cruising, and the event cruises like Strictly Come Dancing is for all. The Rock the Boat Cruises are somewhat louder, but named acts are starting to be attracted to the place where there are theatres and night clubs in their numbers… the seas. And if you like it a little more rocky, then look at the themed cruises like Rock The Boat.
Why do people cruise? We have tried to show you. It is up to you now. If you have cruised and have seen these acts, can I ask a favour that you write a great comment about them under their page here so others can see what we mean. It is like giving them a round of applause. Thanks please share. If you are new to Doris Visits Cruise TV then welcome, we invite you to comment at the end of our blogs, and ask you for follow us on here on www.DorisVisits.com and like us on Facebook and follow us on Twitter and subscribe to our YouTube Channel to get the best from us. We are always looking for a social media persons to help us expand so drop us a line anytime at [email protected] PLEASE SHARE
If you enjoy seeing more about the entertainers you see at sea, then take a look at our show cast! Here is our growing menu of those who work at sea.
CRUISE INSURANCE THAT EVEN THE CRUISE SHIPS SELL, AND WE ADD NOTHING ON, JUST CLICK HOLIDAY EXTRAS – OR OUR BLOG


Check out some of the great Cruise Routes, our concise films of what a ship offers when it takes a specific route. These are typical routes but we do have films to help cruisers on every popular cruise destination in the world.
Want to look around the ships, take a look at our ship tours.
SEE THE CRUISE BEFORE YOU CRUISE THE SEA. World cruise destinations.
READ THE CRUISE BEFORE YOU CRUISE THE SEA. In the book charts!
Sally Katz used the films on Doris Visits to peg her books on! With permission. Each book takes place over a cruise and has incredible inside news and information on cruise lines and shipping. She told of the same sex marriage at sea (book2) plans a year before they were released!! Book 1 is a Canary Islands cruise, Book 2 is in the Baltic, Book 3 is in the Caribbean. Adult romance, Bridget meets 50 Shades on a ship!