Adding Jeff Dingle to our site is long over due because he is one of the nicest guys on the cruise circuit, hugely talented and a friend. Jeff has studied every move Bruno Mars makes and his portrayal of him is perfect. You could be at a Bruno Mars concert, but you are on a ship. At the moment he is regularly on the P&O ships and we caught up with him on the Azura. But, even the BBC say you can't tell the difference.
Cruise Doris Visits Subscribe. Thank you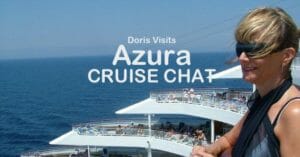 Click the picture of click here to join the Azura Chat site and share how good Bruno is with others. Azura Chat with Doris Visits. If you wish to become a moderator let us know.
Jeff now hails from Newcastle, he looks like Bruno Mars, sounds like him and has the dance moves to match. He performs all the hit songs including Millionaire, Just The Way You Are, When I Was Your Man and Runaway Baby. It is amazing that you can go on holiday and be surprised by such acts on board. Don't take this from us, he was on the Paddy McGuinness presented BBC premiere of the new show Every Better Than The Real Thing. You can see him featured up front and centre next to Paddy in the BBC publicity pictures. The next episode of Even Better Than The Real Thing is on Christmas Day and we hear stars another P&O cruise ship favourite Kai McKenzie.
Visit Jeff's web site – click here click here to follow Jeff on Facebook Follow Doris Visits on Facebook
CRUISE INSURANCE CAR PARKING DEALS ON BOARD ENTERTAINMENT