There are very few women doing comedy and not many rise to the heights that Hilary has achieved. Hilary has had a fantastic TV career on shows from Copycats, the Little and Large Show, Hale and Pace to Ken Dodd. She has appeared as herself on Victoria Wood's Acorn Antiques, Blankety Blank and Celebrity Squares – also, she has appeared as herself with her own material on the Royal Variety Performance. We are talking premier league status for any comedian. It is not surprising that every ship is booking her and you will find her working cross brands on the main stage. But enough of credits and CV's acclaimed entertainer Hilary O'Neil is a fantastic person loved by all. Her laugh-out-loud comedy and her incredible impressions are just a bonus.
The lady who started out as a dancer at the London Palladium, soon moved up to join close harmony group "Stutz Bear Cats", before leaving to pursue a solo career, is often found cruising with her mum as her guest. Mum must have watched her work with Jim Davidson, Brian Conley, Bobby Davro, Joe Longthorne, Richard Digance, Freddie Starr and Joe Pasquale to name a few and be as proud as we are to say that she is a friend.
Hilary's West End appearances have included "Summer Holiday", "Shout" and "Animal Crackers" at The Lyric and she is about to go on tour in "Menopause The Musical" before going into panto at The Hawth, Crawley in "Peter Pan".
To find out where Hilary is performing, click here
Cruise Doris Visits Subscribe. Thank you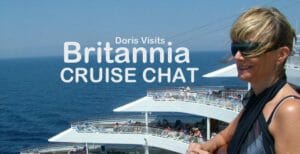 Did you see her on the Britannia? Share here by clicking the picture. It won't surprise you that he was on the 'Bradley Walsh The Wife's New Shoes UK Tour', but Tucker has toured with some legendary greats. Let's chat. or CHAT AZURA. For further information follow her on Twitter at @hilsoneil. Find out more about the entertainers working at sea ON BOARD ENTERTAINMENT join their Facebook Pages and & please share with your friends.
CRUISE INSURANCE THAT EVEN THE CRUISE SHIPS SELL, AND WE ADD NOTHING ON, JUST CLICK HOLIDAY EXTRAS – OR OUR BLOG


Check out some of the great Cruise Routes, our concise films of what a ship offers when it takes a specific route. These are typical routes but we do have films to help cruisers on every popular cruise destination in the world.
Want to look inside the ships, take a look at our ship tours.