Cruise ships are littered with experienced top class performers and some that look and sound like the real thing like Jon Fisher as Gary Barlow. On practically every ship you will get a selection of different performers who have played the leads in West End Shows, like The Jersey Boys or Phantom, or Les Miserables or Miss Saigon. The songs you know and love come to life on those stages on the sea, with just a walk down the corridor after dinner. These boys have played leads in them all, and are all still top working West End vocalists.
CRUISE INSURANCE CAR PARKING DEALS ONBOARD ENTERTAINMENT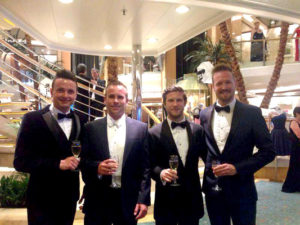 So how does it work? Well, there are more than four. There is a stable of about nine as you will see from their website. All hugely talented, the best around, and between them they have compiled an act that hits home runs every time. What keeps it exciting is that of the nine, it can be any four so the show is always fresh and new. If you like The Jersey Boys then you will love The 4 Tunes, Sarah Harding from Girl's Aloud suggested that you'll be singing, dancing and tingling all over. There was a time when they were on every ship we were working on and now we haven't seen them in a while. A list of their dates and on which ship is here and at the end.
MARRIAGE AT SEA MED CRUISE NEW ENGLAND CRUISES
Cruise Doris Visits Subscribe. Thank you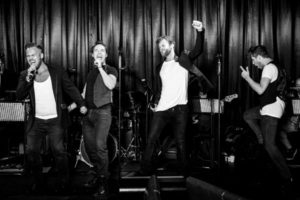 If you want to see them away from a ship you may have to travel a little more than the walk down the ship and it is unlikely it will be free. The four tunes will be a highlight of your cruise, and seeing four good looking young men about the ship doesn't hurt either. Click here for the full gallery of their pictures.
For the dates the 4 Tunes aim to be on board a ship, the where and when, click here.
ENTERTAINMENT @ SEA CRUISE FLEETS CRUISE DEALS CRUISE GREECE
Check out some of the great Cruise Routes, our concise films of what a ship offers when it takes a specific route. CANARY ISLAND CRUISES CRUISE INSURANCENEW ENGLAND CRUISES CARIBBEAN CRUISE FJORDS CRUISE MED CRUISE MOVIES MADE AT CRUISE DESTINATIONS
Essentials – cruise travel labels and our cruise crime novels – oh, and the seasickness bands.
The Port guides here on Doris Visits are a great way to remember your cruise and share with your friends. The crime novels are a whole new experience. You may not have been to the ports in the novels, you certainly won't have been to the parts of the ship they use. All the cruise crime novels will make you feel like you are in the adventure and on the ship – dodge the bullets and stay out of the romance. Ship and cruise accurate, the novels are a great way for new cruisers to discover a ship too. Please share the Amazon link. .CRUISE SHIP HEIST https://amzn.to/2GKQBIp
QUESTION: If I travel and I am more than 24 weeks pregnant am I technically un-insured and liable for all the bills?
ANSWER: Check with your insurance company and lawyer before you travel, but it appears all the companies say no travel.
Cruise Doris Visits Subscribe. Thank you
.