We are fans of the Turtles. They were a huge feature on our first visit to Barbados 27 years ago when our then children swam with them. So thanks Francesca for the memory. If I can find the old video I might add it later. Now there are Turtle conservation huts along the front and on the new boardwalk down by Hastings. They explain turtle breeding and care. Big thanks to P&O Cruises Guest Francesca Wellman, a member of the Doris Visits Britannia Cruise Chat site where she first added it.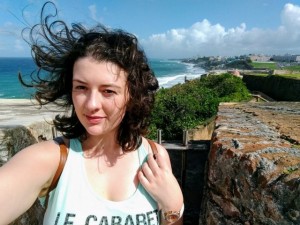 Francesca loves food and travel and was on the Adonia, now sold and soon to be the Azamara Pursuit. If we see a great piece there we will ask if we can add it to the main site. Francesca agreed. She runs her own blog on glutenfreehorizons. Below is her text.
We awoke to find Adonia still out at sea, and ate breakfast while we sailed into Bridgetown under bright blue skies. I've only ever really seen Barbados in transit, so it's exciting to have 3 full days on the island on this back-to-back cruise. Today we'd chosen to go on one of P&O's shore excursions, 'Cat, Caribe & Turtles' – this was a trip along the coast of Barbados with Tiami Catamarans.
LOCAL TOURS AVAILABLE IN BARBADOS – Ideal research for when the ship has no availability left
The ship's shore excursions team pointed us to our meeting point through the terminal – it's well worth getting off the ship a little early if you're going on an excursion. Bridgetown cruise terminal is full of shops to have a look around – there's the standard souvenir shops, a Diamond's International, a very friendly and helpful Tourist Information office and of course a duty-free liquor store to stock up on your allowance of gin. I highly recommend the New Amsterdam gin – great with a slice of orange! There's also some free wifi in the terminal which is always useful!
We had a short bus ride to the Tiami Catamarans office, where we got aboard the Excellence.
As is the theme with P&O's boat trip, the catamaran was significantly less crowded than the one next to it, crammed with Royal Caribbean passengers! It was one of the larger cats that we've been on, with plenty of shade over the bar area as well as space to lounge in the sun – I later found my favourite spot on the 'trampoline' netted section that you find at the front of catamarans.
After crew introductions, we set sail along the west of the island, enjoying the scenery and admiring the expensive looking houses along the west of the island – some neighbourhoods, including those in the exclusive Sandy Lane, charge eye-watering rental prices – oh to be in the 1% of the 1%!
We came to our first snorkelling spot, and were given a quick lesson from the crew. Although we have our own snorkels and masks, the catamaran trips usually include the lending of equipment in the trip. As well as snorkels and masks, they ask you to wear a snorkel vest – it's very non-invasive but just adds a little buoyancy for those who aren't strong swimmers – plus they make you a little more visible to any boats that may be in the area.
This first spot was the place where we were hoping to see turtles…and so we did! I've done snorkelling with turtles in Barbados on previous visits but this encounter was incredible – the turtles came so close to us – it was truly magical.
It's important to note that turtles are of course wild animals, so you are never guaranteed to see them. We've heard as well that 2017's hurricanes disturbed their habitats so sightings have been somewhat reduced. When you go on the turtle trips, the crew of the boats are incredibly protective of them. Anyone chasing the turtles or touching them usually gets ordered out of the water.
Not that we needed to chase or follow the turtles this time around, I'd been trying to keep my distance but one little guy swam right at me and in front of my camera! As well as the turtle, we saw plenty of fish and I finally caught a glimpse of a stingray lurking down on the seabed!
After our magical swim (and a lot of excited squealing!) we got back on board for a buffet lunch. Once again, I was perfectly safe with the Caribbean offerings of chicken with rice, salad and sweetcorn. They were offering fried fish as well, but separate tongs were used by the staff and two days later I can't feel any effects of cross contamination – all good!
While we ate we moved along the coast to another area – some swam to the beach, whilst some of us swam over to a nearby reef. It really was bursting with life, with lots of different fish, corals and urchins.
After our second snorkelling session the sails went up and it was time for a leisurely sail back to port, with the bar open for rum punch, wine and beer – catamaran trips always look after you very well on the drinks front, and there is of course water, juices and fruit punch for those not drinking. They also don't serve alcohol before snorkelling for everyone's safety!
It was another wonderful day, and I'd certainly recommend booking this shore excursion if you are visiting Barbados with P&O Cruises.TO BOOK A SHIP ARRANGED TOUR OR A SPECIAL DINNER OR CLASS ON P&O IF YOU HAVE BOOKED YOUR CRUISE – GO TO YOUR PERSONAL P&O CRUISE PLANNER HERE
How to Book Tiami Catamarans
We booked this excursion with P&O Cruises Shore Excursions team. You can book onboard, or through your Cruise Personaliser. They also offer a sunset sail trip which I've heard is fabulous.
LOCAL TOURS AVAILABLE IN BARBADOS – Ideal research for when the ship has no availability left
The Caribbean is often a first choice for new cruises, so you have come to the right place to look around for here and cruise stops all over the world. It is not just about us familiarising you with the destination first, but connecting you to others for you are all the knowledge base that helps others decide walk or tour, beach or bar, shopping or diving. See our blog on choosing a first cruise. CHOOSING A FIRST CRUISE.Click here for the special CARIBBEAN SEASON destination menu. Each major Island and Caribbean Season Destination has a guide or film about the tours here !

DORIS VISITS COMPARE CRUISE DEALS BOX takes you to a variety of deals and explains how they are all found.