Another of David's ship spotting videos. This is the H&A ship Zuiderdam being pulled into the Tyne by a Tug which is unusual. This is a Vista Class ship, the name used because of the extensive use of glass within the ship. It is the sister ship to three other ships and the four names relate to the four main directions of the compass. MS Oosterdam, MS Noordam and MS Westerdam. She is the same size and dimensions as the Spirit Class ships and similar to Cunard's Queen Victoria. At just under 300 meters she cruises comfortably at 22 knots and has 11/15 passenger decks. The ship looks like she is surrounded by balconies because she is, eighty-five percent of her staterooms have ocean views and sixty-seven percent have verandahs. We can now offer the deals available on some Holland & America ships for adult cruises. She carries just under 2000 Guests and is often used by British cruisers.
Cruise Doris Visits Subscribe. Thank you
If you enjoy seeing more about the entertainers you see at sea, then take a look at our show cast! Here is our growing menu of those who work at sea.
CRUISE INSURANCE THAT EVEN THE CRUISE SHIPS SELL, AND WE ADD NOTHING ON, JUST CLICK HOLIDAY EXTRAS – OR OUR BLOG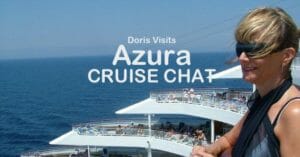 Click the picture or click here to join the Azura Chat site and share your knowledge with others. Azura Chat with Doris Visits. If you wish to become a moderator let us know.
Check out some of the great Cruise Routes, our concise films of what a ship offers when it takes a specific route. These are typical routes but we do have films to help cruisers on every popular cruise destination in the world.
Essentials – cruise travel labels and our cruise crime novels – oh, and the seasickness bands.
The Port guides here on Doris Visits are a great way to remember your cruise and share with your friends. The crime novels are a whole new experience. You may not have been to the ports in the novels, you certainly won't have been to the parts of the ship they use. All the cruise crime novels will make you feel like you are in the adventure and on the ship – dodge the bullets and stay out of the romance. Ship and cruise accurate, the novels are a great way for new cruisers to discover a ship too. Please share the Amazon link. .CRUISE SHIP HEIST https://amzn.to/2GKQBIp
Cruise Doris Visits Subscribe. Thank you
Enjoy your cruise