German shipbuilders Meyer Werft have their headquarters in Papenburg at the river Ems, and a shipyard in Rostock, Germany, and another in Turku, Finland. The engines are made in Rostock and floated to the other two yards where the ships are constructed.
They have been building the Excellence class / Helios Class ships for Carnival.
MEYER WERFT in Papenburg is building two new Excellence Class ships for P&O Cruises. Iona's sister ship Arvia should embark on its maiden voyage in 2022. From our reading of the statistic sheet, it appears 4 knots faster. Below is the P&O ARVIA in hall 6 at Pappenburg, Germany.
NEPTUN WERFT – Rostock specialises in the construction of the heart of the ship. The engine rooms and tanks used to store the low-emission LNG are the complex units. Tugboats pull the huge floating units to MEYER WERFT in Papenburg and MEYER TURKU in Finland, where the actual cruise ships are built. Through the development of fuel cells and other technology, they continue setting technological standards in the future environmentally friendly cruising. The current units are 140 metres long, 16 metres high and up to 46 metres wide. In the new shipbuilding hall in Rostock, they can build four of these floating units a year. Demand is expected to increase. The Meyer Neptun Group have been together with Neptun Werft since 1997.
MEYER TURKU – Turku Shipyard was founded in 1737 when two businessmen, Esaias Wechter and Heinrich Remgean, started building wooden crafts. In September 2014 Meyer Werft and the Finnish State acquired Turku shipyard from STX Europe with the State of Finland holding a minority of 30 percent. As usual for the FII's investment policy, in April 2015 it exited in favour of Meyer who since then invest in the Turku shipyard. Today, the managing partner of the company is Tim Meyer. MEYER TURKU OY specializes in building highly complex, innovative and environmentally friendly cruise ships.
IN CONSTRUCTION
CARNIVAL CELEBRATION – MEYER TURKU will deliver this Carnival XL Class sister ship for Mardi Gras in 2022. Both feature a low-emission LNG drive system, which is currently the most advanced propulsion technology in the world. The Oasis relaxation are and a diverse selection of restaurants are two features of the luxury liner. 345m in length, 180,000 GT. Guest capacity 6,600.
DISNEY WISH – Disney Cruise Line has commissioned MEYER WERFT with the construction of three new Triton Class ships. First is the Disney Wish due in 2022. It'll be the first vessel in the Disney fleet to feature an eco-friendly LNG drive system.
Rapunzel will add a touch of magic to the luxury liner's hull. Tonnage 135,000 GT. Passenger cabins 1250.
ARVIA P&O Cruises should take this ship in 2022, it is structurally identical to Iona. Both are LNG ships which significantly reduces pollution levels at sea and in the port fully preventing the release of nitrogen oxides and soot particles. It looks to us the numbers show its speed of 21.5 knots is 4kn faster than the Iona. Over 180,000 GT. Length 344.5m. Breadth moulded 42m. Decks 20. Guest cabins 2,614
COSTA TOSCANA – from MEYER TURKU. It's the sister ship of Costa Smeralda that has been cruising since 2019. It is inspired by Italian art, culture and landscapes and is one of the largest ocean liners in the world, measuring 337 metres in length with over 6,554 passengers. Tonnage 185,010 GT. Speed 17kn. Guest cabins 2,612. Crew 1,646. Theatre capacity 915. Total paintwork weight 380 t. Total Wiring Length 3,000 km. Costa XL-Class.
AIDAcosma – Some of its onboard highlights will include a bouldering wall, a large pool area with waterslides, an indoor playground, a running track for joggers, an infinity pool and a sea-view sauna. 17 restaurants and 23 bars. Tonnage 183,200 GT. Length 337 m. Breadth 42m. Decks 20. Guests 5228. Guest cabins 2626. Crew 1551. Helios Class
Cruise Doris Visits Subscribe. Thank you
PLANNED
Royal Caribbean International has commissioned MEYER TURKU with the construction of three new ocean liners. The lead ship will be delivered in 2023, and the second (Finland with yard number NB 1401) will follow in 2025. The third cruise ship in the Icon Class will be launched in 2026. This new series of ships – tonnage of about 200,000 GT – enough room for around 5,000 passengers. This means the cruise ships in the Icon Class will be a similar size to those previously delivered to RCI they will be the eco-friendly LNG drive system
MEYER TURKU
NYK Cruises – A small ship for Japan which is an interesting development for shipbuilding in Papenburg! Scheduled for delivery in 2025 – LNG propulsion – Tonnage 51,950 GT – Length 228.86 m – Width 29.8 m – Guests 744 – Guest cabins 385 – Crew 470
Disney Cruise Line The Disney Wish is the first of three commissioned from MEYER WERFT the second is due 2023, and the third will be delivered in 2025. The three similar vessels will feature the eco-friendly LNG drive system. Tonnage 135,000 GT. Guest cabins 1250 – Triton Class – MEYER WERFT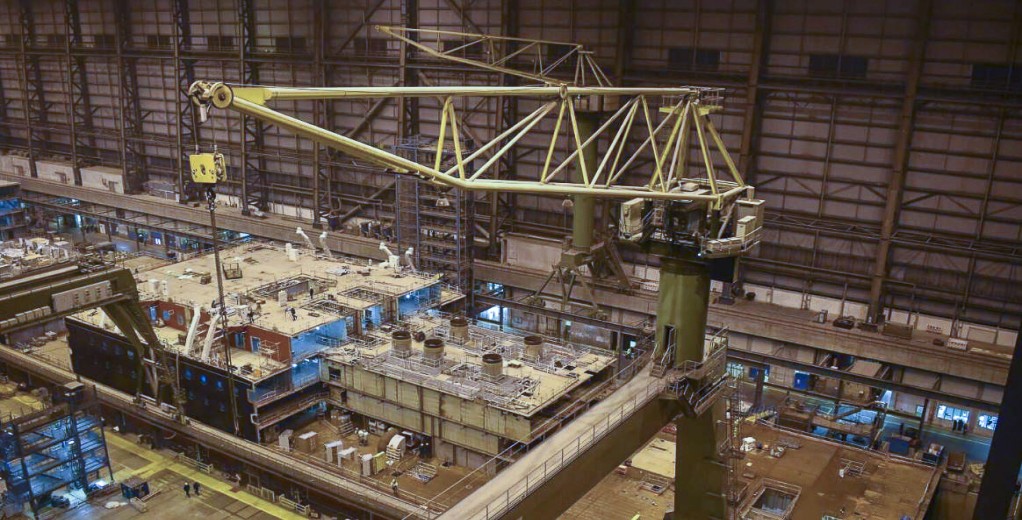 MEIN SCHIFF 7 After delivering two vessels to TUI Cruises in 2018 and 2019, MEYER TURKU is now building another cruise ship for the German cruise line: Mein Schiff 7. Similar to the structurally identical New Mein Schiff 1 and Mein Schiff 2, the new vessel will hold around 2,900 passengers, most in sea view cabins. The running track (almost 440 metres long), the gym and spa areas, the arena with a sports court and climbing wall, and the 25-metre outdoor pool will also be similar to those found onboard the sister ships. Cutting-edge technology: All engines in the new TUI cruise ship will be fitted with Selective Catalytic Reduction system to reduce nitrogen oxide emissions. Tonnage 111,500 GT. Length 316m. Width 35.8m. Decks 16. Speed 22kn. Guests 2,894. Guest cabins 1,447. Crew 1,000 – MEYER TURKU
Silversea Cruises – The Ultra Luxury Class new Evolution Class at MEYER WERFT will have exquisite restaurants, spacious suites, relaxing spa treatments and excellent sports facilities. The first ship in the series, Silver Nova will be delivered in 2022, and a structurally identical second ship Silver Nova is set to follow in 2022 and 2023. The ships are being built in the smaller Hall 5. Tonnage 54,700 – Guests 728
Carnival Jubilee – A sister ship for Mardi Gras and Carnival Celebration: For the first time a ship design will therefore transfer from MEYER TURKU to MEYER WERFT. The third ship in the Carnival XL Class will follow. The ocean liners in this series feature a low-emission LNG drive system, great entertainment, beautiful relaxation oases and a diverse selection of restaurants. The luxury liner will provide enough room for over 6,600 passengers. Tonnage 183,200 GT. Length 345m. Width 42m. Decks 20. Speed 17 kn. Expected Guest capacity 5228. Guest cabins 2626. Crew 1551 – Helios Class – MEYER WERFT
Historically clients include.
SAGA – Spirit if Discovery 2019 – Spirit of Adventure 2021
Royal Caribbean
TUI Cruises
Carnival Cruises
Aida Cruises
Birka Line
Costa Cruises
Crystal Cruises
Delfin Cruises
Hapag Lloyd Cruises
P&O Cruises
These links take you to the cruise operators own website - book direct - have your online contact direct with them
Our page on cruise insurance & antigen testing: click> INSURANCE & TESTING

CHAT GROUPS – a fantastic way to help others and a place to find answers. We run Facebook Groups for cruisers – see the list in black boxes after the ships and fleets listed above.