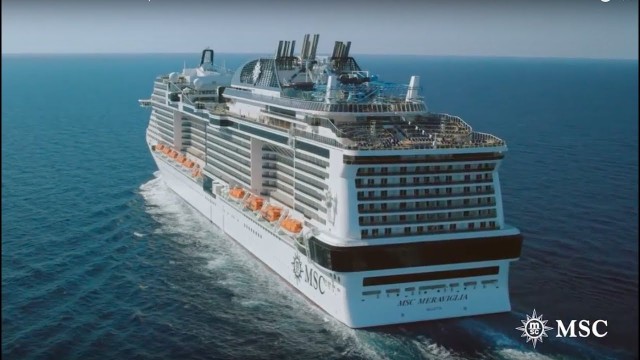 MSC is a European privately owned company founded in Naples so it is no surprise that is ships love the Mediterranean It is like playing at home though home-ported in Hamburg where it is the largest ship to homeport there. Be aware, in Hamburg UK residents have to show their passports as well as cruise card. Then the ship heads to base in Miami, with routes in Florida and the Caribbean for the winter – understandably.
MSC Meraviglia is a huge ship. About the size of the two new ships P&O now has on order and it has the new digital system MSC For Me – you might be tempted to download the app to your phone or tablet but it only works for those with a booked cruise, so we don't know what is inside. We wonder if connecting to your digital watch makes finding your cruise photos any easier? But the digital experience is something they are shouting about and claims to keep you in touch with crew and ship in real time. This ship loves the Med, from Barcelona to Valletta all the big deep ports though it bravely claims it can dock at any cruise port. It has a two-deck 96 m inside central promenade with a 480 square metres LED dome, filled with boutiques, restaurants and tranquil spots for shopping, eating and relaxing… as well as socialising. Plus there is a spectacular amusement area connected to an outdoor water park. Yes, it is as are all MSC ships, a family ship.
Malta Walking Guide of Valetta Malta Churches Malta Hospital Experience Malta Island Buses
Cruise Doris Visits Subscribe. Thank you
CHAT MSC CRUISE – Kings of the Med – Click here to join
We have yet to find a written dress code for MSC, but people do get smart in the smart places and you will see in number 3 they suggest you bring a tux and the ladies an evening dress. We have the following (taken from their web site.)
DORIS VISITS WESTERN MEDITERRANEAN MENU OF PORT GUIDES
The five golden rules to follow on a cruise to have the best experience
Taking a cruise may be a holiday, but it is also a skill and those who have been on plenty know all the golden rules. If you have never taken a cruise before, but are keen to fit straight in and look and feel like a pro, there are five principles to live by, which will ensure you make the most of your time.
DORIS VISITS EASTERN MEDITERRANEAN MENU OF PORT GUIDES

1. Learn the lingo

There is a whole new language used at sea, so learning a few words will help you look like you have done this before. Always remember that the vessel you are cruising on is referred to as a ship and never a boat and your accommodation is a cabin. Get your bearings on board and refer to the front of the ship as the bow, the back is the stern, port is to the left-hand side and starboard is the right.
DORIS VISITS CARIBBEAN MENU OF PORT GUIDES

2. Keep to ship's time

One of the beauties of cruising is the opportunity to visit a wide selection of destinations in one trip, but this could well mean crossing various time zones. Running on ship's time will help you manage your day on board and not miss that all-important dinner reservation, but it is also vital for port days. Be sure your watch is in line with ship's time before disembarking to guarantee you are back on board well before the vessel is due to set sail again.
DORIS VISITS CANARY ISLAND MENU OF PORT GUIDES

3. Only pack what you need

It can be tempting to pack all things for all eventualities for your cruise, especially if you are travelling with young children. Experienced cruisers know that many of these items are actually readily available on board, so they leave them at home. These include a buggy, which can easily be organised in advanced, and toiletries, which are found in each cabin. Leaving these out of your luggage will give you extra space to buy souvenirs on the ship or in your favourite ports.


The items that really are a good idea to bring along though are a tux for the men or a formal dress for the women. Gala night really is one of those special cruise experiences and you will certainly want to look the part. Click the picture to go to their site.
DORIS VISITS FJORDS MENU OF PORT GUIDES

4. Plan your time

Yes, you are on holiday, but you have booked yourself onto a cruise ship that is chock full of fantastic things to do, see, eat and explore, so you'll want to make the most of your time. There's nothing more frustrating than realising you could have seen Cirque du Soleil On The Seas if you'd organised it earlier.

Plan the experiences you really want to have in advance and get them booked to avoid disappointment. This includes reservations at the speciality restaurants and spa treatments for a good feeling of being pampered. Even better, if you book on embarkation day, you will receive a 50 per cent discount on your spa treatments. Explore ports on an organised excursion or have ideas before getting off the ship about where to go, otherwise, you could end up missing out on a destination's best attractions.
DORIS VISITS BALTIC SEA MENU OF PORT GUIDES

5. Know when to take advantage of the ship benefits

There are a wide number of benefits that passengers can take advantage of on board MSC Cruises simply by upgrading. For example, if you upgrade your Bella cabin experience, you'll automatically be served breakfast in your cabin. While this may sound romantic for couples, it can also be great for families. Not having to ready all the children for breakfast at the same time makes for a less stressful trip and everyone loves the treat of eating in your pyjamas.
click the direct links above to an MSC CRUISE DEAL or click here to try a THOMAS COOK price