If you venture this far north to see the northern lights, do not miss the Alta Museum. Here is Jean's report.
Cruise Doris Visits Subscribe. Thank you
The view is worth the bus ride!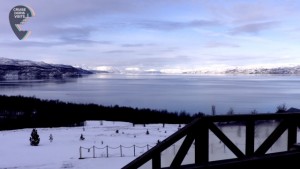 You may never get this far north again, and even if it is snow-covered, so all the outside stones are covered, the museum is a treat and the view amazing. It is easy on the 140 public bus. It is the etchings and rocks, carvings and paintings made between 1800 to 6200 years ago that lead it to be voted the best museum in Northern Europe. Inside you can make your own etching and email it! All explained along with Sami history up close and personal inside. Our more general page on Alta with a dramatic film is here. The Museum also covers local history and heritage. Museum Web Site It features.
The collections: Insects, rocks, slate, Boats, Archives, Gifts to the museum
Digital museum
Articles: The Alta River, Quarries and mines, Cultural diversity, Northern Lights, Treasures, Sports, Struve
Research
Make your own digital rock carving – this was Jean's.
Fred. Olsen to Alta SAGA, VIKING and AIDA are amongst the others who venture here. Researching the destination before you go can help you choose, understand the port talk easier, save money and time. Or chat with others who have been there on one of our chat sites.
ANDALSNES BERGEN FLAM OLDEN OSLOFJORD SKJOLDEN STAVANGER TROMSO
REYKJAVIC AKUREYRI ALESUND ALTA BODO EIDFJORD KLAKSVIK TORSHAVN
GEIRANGER HAUGESUND HELLESYLT HEIMAEY HONNINGSVAG ISAFJORDUR
KRISTIANSUND LOFOTEN ISLANDS LONGYEARBYEN NARVIK
NUUK QAQORTOQ TRONDHEIM Local Tourist information here
PORT GUIDES – BALTIC SEA MENU OF 'DESTINATION GUIDES' CHAT GROUPS FOR MANY SHIPS – ALL HERE – CLICK TO SHARE INFORMATION
Please share. Below the Viking Sky before it got into trouble.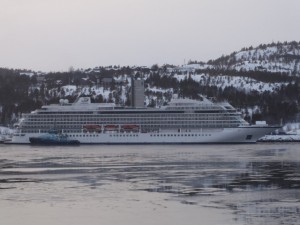 The Viking Sky seen here in #Alta from the deck of the P&O ship Aurora before it got into trouble. The #Aurora left first, it also encountered a force ten gale, 97 mph winds, but we slept through it and just heard about it from guests and on the Captains report. The #Vikingsky which left later started to encounter harsh winds and got into trouble.
SHIPS & CHAT – Research other ships – passenger area tours, info & chat sites – Our Ships menu has every ship from every fleet – Find your ship's chat site + share your pictures + experiences to help others – click
The cruise size luggage labels are a hot recommendation, the other items are fun.
Cruise Heist has more than rough seas to deal with. Most crew and guests are totally unaware of the goings on in this great fiction thriller where South American money is smuggled aboard and the ship gets very rocky.
Out now on Kindle only. Paperback out later this year.