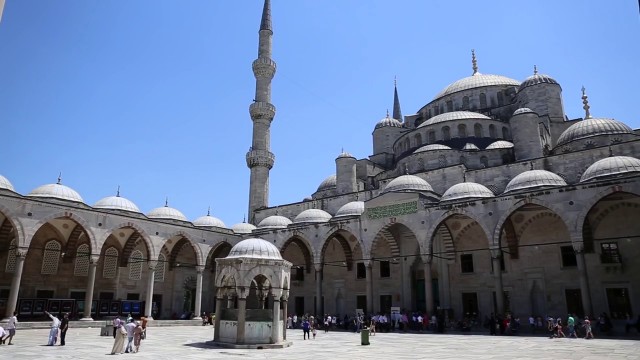 Istanbul in Turkey is a cruise stop. We found it on the Fred Olsen's cruise ship the Braemar for September 2017 . Click here to go to the page.
As Doris Visits has yet to make a film there, we welcome David's Been Here, for this great City. Istanbul is also a City break on some of the lesser known low cost flight operators across Europe like Pegasus and Turkish Airlines. Historically known as Constantine and Byzantium, Istanbul has a lot to offer for a short break.
Istanbul is a transcontinental city in Eurasia, straddling the Bosphorus Strait (which separates Europe and Asia) between the Sea of Marmara and the Black Sea.
Our colleague and friend David Hoffmann hosts a similar site to Doris Visits. David has made films of some of the places we have not filmed. Istanbul is one. We have been there, and we have shot various movies there including Hideous Kinky, but not made a travel film.
A word of warning about Istanbul. You will get hustled by street vendors and if you stand looking lost they will offer to show you the way. They may then expect to be paid for guiding, so accept all help with some care and thought and maybe ensure there is an understanding first. As with all major cities, keep your bag and wallet safe especially in crowded places.
We will let David explain the city, great film David!
Here are the top things to do in Istanbul, from shops to monuments, trams to boat trips. David takes you round just like Doris does on Doris Visits.

A cruise that takes in Istanbul will normally go in and out of Southampton, and include similar stops to the Fred Olsen cruise, Islands of the Aegean which, sails from Southampton on the 11th September for 28 nights and is an adult only cruise. This idyllic cruise takes in Malaga which we have a great film on, as well as the donkey taxi town in the mountains, Mijas which is a fantastic excursion by coach or taxi, just 20 minutes outside Malaga.
On the return journey it takes in Lisbon, which also has a Doris Visits film.
The rest of the itinerary includes Valletta, Malta. Piraeus (for Athens) Greece, Tourlos (Mykonos) in Greece, Kusadasi, Limassol, Antalya in Turkey, Rhodes in Greece, Thira in Santorini and Cartagena
Click here to see the cruise and book on the Fred Olsen site and get the latest and best deals. Why not have a look at the LATE DEALS over a coffee from your arm chair? Doris Visits allows you to SEE THE CRUISE BEFORE YOU CRUISE THE SEA. We have videos of many of the cruise stops you might make from Miami to Tahiti, from Bruges to St Maarten. Please follow us on Facebook and Twitter and share.