Whether you are on a long cruise or a short cruise a huge part of the holiday is the ability to dress up. If you are going on your first cruise we have tips inc dress code here. Whether evening or cocktail dress, smart casual or open neck shirt there might just be a need to run a iron over something. No worries, there will be a ironing station or room nearby and there is often one on each floor. You might like to check the deck plans like these, with relation to your room before you go. Links to other cruise operators below. Most laundry rooms are fully equipped with washing machines and tumble dryers and there will also be facilities on board to have the wash done for you, so just ask your cabin attendant he will know everything from where to get your shoes cleaned to how to find the Ship's Tailor.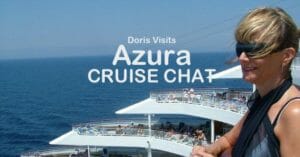 Click the picture or click here to join the Azura Chat site and share your knowledge with others. Azura Chat with Doris Visits. If you wish to become a moderator let us know.
see all future Azura Cruises on one page – great tool
Yes, most ships have a tailor thank goodness as one of our party needed a pair of trousers let out on the Black watch a few years back. Most things can be found on board and for a cost you can get anything done. The Ship's Tailor, if not known by your steward will be available via reception. There will no doubt be a fee to mend or alter a garment but having them there is a comfort. Laundry can be done for you and your shoes can normally be cleaned. If you ask your cabin steward a whole world of facilities opens up because this is a village. Just like some ships offer beauty treatments and teeth whitening and face fillers though I have yet to see actual invasive plastic surgery done but no doubt there is a themed cruise in the future that will. In book 3 of Solo Cruiser, American Portrait, when Violet is working for the marketing department she discusses with a company director in Amber Cove just that, the thermal baths and cruises based around pampering and beauty as if weekends at the country spa are going to go just one step further. Sure there is a clinic on a lower deck just as there are shops which change stock regularly to make them appear different.
The laundry room on black tie nights is the hub of gossip, especially on a world cruise. Washing powder is not free so that can be taken with you or purchased in the on board shop. For those of you who have not cruised before, here is a short film of the facility on E deck of the Azura. Please subscribe to my Youtube Channel and share with friends and fellow cruisers. Join me on Twitter @DorisVisits let's chat….
Cruise Doris Visits Subscribe. Thank you
Launderettes can be found in the following locations:
Arcadia deck plan, laundry on – Decks C, D, E
Aurora deck plan, laundry on – Decks A, C
Azura ship, laundry on – Decks Riviera, A, B, C, D, E, P
Britannia ship overview, laundry on – Decks A, B, C, D, E, F, G
Oceana ship overview, laundry on – Decks A, B, C, D, E, F
Oriana ship overview, laundry on – Decks A, C, E
Ventura ship overview – Decks Riviera, A, B, C, D, E, P
Next – is there a hairdryer? The answer is yes because ships often prefer you to use the hairdryer and iron supplied as they are rated for the electricity supply on board. These details are different for every ship and this is where you need to get into the nitty gritty by going to their web sites, see the links below. But normally yes there is a hairdryer, yes there is normally a fridge, and yes there is normally a tea making set in the room.
We do have some packing tips, some you might not think of like you will be taking pictures so free your phone and camera memory up before you go. And on a fly cruise, take a change of clothes in hand luggage in case the airline don't deliver your case. We also show you luggage trackers! Again, we picked that up from reading Solo Cruiser. Check what visas you need and be careful not to get ripped off online with phoney visa companies. Check what is included with your cruise and what added extras you might like to indulge in like the spa, private areas and fine dining. And take a few extra hangers, though you can normally always ask for more, and a universal adaptor for the electric because even different ships under the same operator can have different sockets. Sometimes we have a cabin tour, but the cabins can be very different within the same ship.
So, please subscribe to our YouTube Channel as when we hit 1,000 subscribers we can do so much more with the facilities they open up to us. If you are new to Doris Visits Cruise TV then welcome, please sign up to our Facebook Page and share with fellow cruisers. We are at sea every month of the year somewhere and post new films of cruise destinations each week. Facebook.
SEE THE CRUISE BEFORE YOU CRUISE THE SEA. We show cruise destinations all over the world. From St Lucia to Barcelona, from Tallinn to Tenerife, from Rome to Russia. Please follow us on Facebook and Twitter and share.
CHAT GROUP – Cruise the Caribbean Chat – If you love the Caribbean then share here. Chat and answer other people's questions. Here is where you are the knowledge base – CLICK HERE TO SHARE & CHAT