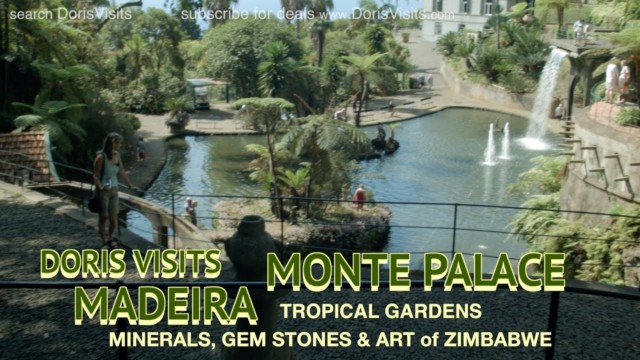 At the top of the cable car, don't walk straight past the gardens to get to the toboggan ride. See the gardens first or you will have to come back up again as opposed to going down from the base of the toboggan. The Monte Tropical Gardens are so extensive (70,000 sq meters) that you could spend a day there and walk back to the ship. They are tiered gardens on the mountainside. In the grounds is a three storey museum
Cruise Doris Visits Subscribe. Thank you
The Monte Palace Tropical Garden has an huge exotic plant's collection, coming from all over the world. There is manor house and lake with water features, swans including Black swans from Australia, Tasmania and New Zeeland, and duck's. Peacocks and chickens walk free in the grounds.
CRUISE INSURANCE CAR PARKING DEALS ON BOARD ENTERTAINMENT
The Monte Palace Museum is an ideal exhibition space nestled within the beautiful surroundings of a tropical garden. There are three floors, two of which are dedicated to sculptures and the third houses a unique mineral collection gathered from the four corners of the world as seen in the film. 'African Passion' shows part of a collection of contemporary Zimbabwean sculpture from the period 1966 to 1969. 'Mother Nature's Secrets', on the lower floor, proudly exhibits one of the finest private collections of minerals, predominately from Brazil, Portugal, South Africa, Zambia, Peru, Argentina and North America.
MADEIRA TOURS – PRIVATE – P&O – MARELLA – all here
If you are new to Doris Visits Cruise TV then welcome, follow us on Facebook and subscribe to our cruise guide YouTube Channel to get the best from us. PLEASE SHARE
Around the garden is a large collection of tile panels placed along the walkways and amongst the vegetation. The collection is considered to be one of the most important in the country after that of the National Tile Museum, is made up of Hispano-Moorish tiles of the 15th and 16th centuries and panels produced in Portugal from the 19th to the 20th centuries.
click here for the New Canary Island cruise menu including West Africa & Cape Verde

DORIS VISITS COMPARE CRUISE DEALS BOX takes you to a variety of deals and explains how they are all found.
MADEIRA TOURS – PRIVATE – P&O – MARELLA – all here
If you are new to Doris Visits Cruise TV then welcome, follow us on Facebook and subscribe to our cruise guide YouTube Channel to get the best from us. PLEASE SHARE