On the Mississippi River in Louisiana, New Orleans is gumbo, voodoo shops and cemetery tours as well as being famous for its colourful nightlife, jazz clubs and of course the Mardi Gras. Mardi Gras happens in late winter and is world-famous for its costumes and parades and street parties. It is a colourful destination that is on most people's cruise bucket lists. Here are a few tips and a video that makes a great start to your research.
If New Orleans is your first US port you have to go through immigration. The last cruiser might not be off the ship and then through until around 5pm! You might also get an email from US immigration some weeks later to say you overstayed your welcome, even though you left weeks before. Cruise immigration mechanics can do this if you are never checked out properly from your last port. The cruise line will deal with that eventually.
If you want to go to a local bar at night, firstly they fill and if you want a table get in and start drinking early. However, we did that and the band that came on two drinks later, we chose not to stay for. There were better bands elsewhere. Research! Bourbon Street is a typical seaside town at night, and it gets loud. Just like say Blackpool can when busy. Here it is legal to take alcoholic drinks out onto the streets, but the atmosphere is very merry!


Luckily everything stays open very late. Even if you miss some of the first daytime, there is plenty open at night, but it can get chilly. The great thing is that everywhere in the French Quater is walking distance from the ship and easily accessible. The French Quarter is the heart of the city. Bourbon Street is famous for its jazz clubs but be aware that unless you prebook you will probably have to queue as everyone wants to experience the music that New Orleans is famous for.
You can also stroll to the famous French Market where you can buy handmade souvenirs and local crafts, and at the end of the French Market, better still is the Jazz Museum and coin mint museum just past it.
Although the Jazz show in the hall you have to queue for is a tourist event we enjoyed it.
In Jackson Square which is close by you can see street performers and of course St Louis Cathedral, the oldest Cathedral in North America, founded as a Catholic Parish in 1720. In September 1987 Pope John Paul II visited the Cathedral and the plaza directly in front of it was named in his honour. At the rear of the Cathedral, there is a statue of Jesus in the St Anthony Garden. He has his arms held up and at night floodlights project an impressive shadow of the statue onto the Cathedral which is an amazing sight to see.
Apart from the jazz and the festival, voodoo is another thing that New Orleans is famous for. There are plenty of voodoo and Occult shops to visit and there is a Voodoo Museum in the French Quarter. If you are brave you can have your fortune told. Voodoo was brought to New Orleans by the enslaved Africans from West Africa in the 1700s and the celebrated priestess Marie Laveau's remains are in the St Louis Cemetery No.1. The Marie Laveau House of Voodoo is number 739 Bourbon st in the French Quarter. To visit the cemetery you may need to be on a tour or prove you are a family member.
If you are lucky enough to dock in New Orleans during Mardi Gras you are in for a treat. The famous Mardi Gras festival is In February or March. The last day of the carnival season falls on the day before Ash Wednesday, the first day of Lent. There are festive celebrations and parades throughout the whole city. Parades such as Endymion, Bacchus Zulu, Rex and more. People stand on their balconies and watch and dance and drink and often throw beads so you have to be careful not to get hit on the head!
Creole cooking in New Orleans is also world-famous and there are so many restaurants to choose from. We had to queue for about half an hour to get in. The food was delicious and worth it. You can eat on the Riverboat Paddle Steamer, docked or on a cruise.
The exciting cruise stop where you need more time. The only thing that makes leaving bearable is the red sunset behind the Sunshine Bridge. The film was made during a cruise stop, with an overnight. I was writing CRUISE SHIP ART THEFT whilst on that cruise and referred to the film a lot after leaving. I hope the sections that take place there evoke the atmosphere.
SHIP TOURS help you choose your next ship Aurora Ship Tour Marella Discovery 2 Azura Ship Tour Cunard Queen Victoria Britannia Ship Tour Virgin Scarlet Lady Arcadia Ship Tour Ventura Ship Tour SUITE on P&O Every cruise ship and every fleet listed here
PORT GUIDES filmed by Doris Visits are a great way to research, remember your cruise and share your memories with your friends. ATHENS GUIDE ANTIGUA CRETE GUIDE RHODES ROME DUBROVNIK KEY WEST STATUE OF LIBERTY TOUR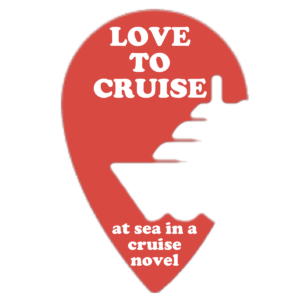 You may have seen cruise thriller author & movie maker Stuart St Paul – click here on a ship giving an after-dinner speech or a talk with a book signing. Crime novels are a whole new experience. You may not have been to the ports in the novels, you certainly won't have been to the parts of the ship they use but they take you there. Stuart's page is here. The cheapest way to buy his cruise thrillers is the KINDLE BOX SET, all six cruise thrillers for the price of two.
CHAT GROUPS – ADULT ONLY
SAGA Ocean & River cruise chat group Viking Ocean& River Cruising chat
Azamara chat – Radiance Class ships – Journey, Pursuit, Quest (previously the P&O Adonia) 700 guests