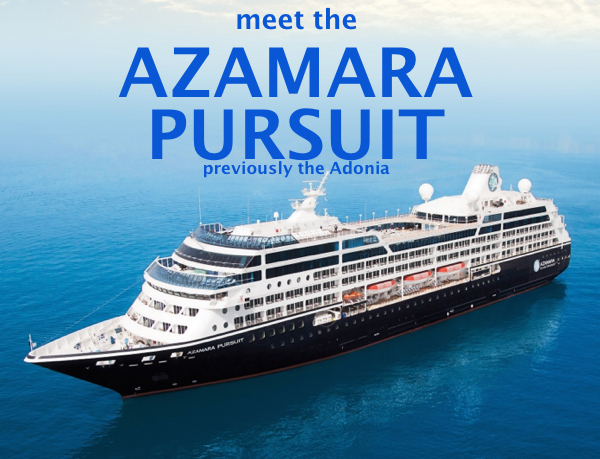 In the words of Cliff, or maybe his cruise ship tribute Jimmy Jemain, 'Goodbye Sam, Hello Samantha' – or 'Goodbye Adonia, Hello Azamara Pursuit'. AZAMARA CRUISE DEALS @ THOMAS COOK
P&O have sold their smallest ship, the Adonia, which holds just 710 guests. The Adonia, built by Chantiers de l'Atlantique at their shipyard in St. Nazaire, France in 2001 is the sister ship to the two current Azamara ships and the Princess Cruises, Pacific Princess. Azamara just needs to get that last one and they have four matching ships. I am not a card player but it seems that would be some royal flush. Whilst Adonia will be greatly missed by her many loyal passengers, it was on the cards. The ship transferred to Fathom for a period not long ago but she found herself back in the fleet to the joy of many customers who favoured her. But, the number of people over 60 who will cruise this year has dropped to under 28% of the 54 million cruisers. Cruising is now a family experience; it appears that generations of families cruise together, sometimes four generations of an extended family which means some cruise lines are aiming at a bigger newer market that has to offer more to a wider cross-section of ages at one time. This leaves boutique brands to appeal to customers who prefer the personal treatment and the peace of leaving the grandchildren at home. This is the style of the small ship, the feel the Adonia gave them and they will get exactly that when she joins the luxury boutique cruise brand Azamara, of Royal Caribbean. Azamara aims to offer that atmosphere that makes passengers feel special individuals. However, as with everything that is special and individual, the price maybe a little more. Small ships are also very special because they can get into small islands like Bequia which Doris Visits filmed on our last tour on the Adonia. Such destinations and itineraries are more eclectic. The Adonia will be a perfect fit for the Azamara fleet after being updated to match the brand's upmarket position. It will have renovations giving guests the experience of a boutique hotel at sea, similar to those recently given to the Azamara Journey and Azamara Quest. It will be interesting to see whether the Pacific Princess picks up the British Isles routes for the Carnival Brand.
Adonia completes its time with P&O in spring 2018 – the final cruise (D804) with P&O being a Caribbean adventure starting in February and ending on 9th March. This will mean those that have booked holidays on that ship after that date (D809 onwards) will have to chat with P&O (if they have not already been called) and see if they like what is on offer. My guess is those last cruises with P&O will be very special and memorable.
Cruise Doris Visits Subscribe. Thank you
P&O Cruises SVP Paul Ludlow said: "During her time with us Adonia has captured the hearts of many thousands of P&O Cruises guests. She has ventured into new ports of call around the globe and has negotiated Icelandic Fjords, European rivers and Caribbean coves. We will ensure that these discovery itineraries are continued on other ships in the fleet. "With almost six months until Adonia leaves the fleet, we will ensure that each of the cruises in her final season with us are extra special and celebratory." P&O Press release. AZAMARA CRUISE DEALS @ THOMAS COOK
If you want to look at the cruise routes for the mid size ship Oceana which is Malta and Dubai based – click here
If you wish to know more about the Azamara fleet, then Doris Visits has an Azamara menu that offers some deals on those ships and has some films. We have already added the new ship into the menu next to Azamara Journey and Azamara Quest in readiness for spring 2018.A third ship means a 50% expansion which will allow them to visit even more regions of the world. Larry Pimentel, President and CEO of Azamara Club Cruises® says. "Our loyal guests and travel partners have asked for this expansion for a long time; we are very pleased to deliver this to them."
Essentials – cruise travel labels and our cruise crime novels – oh, and the seasickness bands.
The Port guides here on Doris Visits are a great way to remember your cruise and share with your friends. The crime novels are a whole new experience. You may not have been to the ports in the novels, you certainly won't have been to the parts of the ship they use. All the cruise crime novels will make you feel like you are in the adventure and on the ship – dodge the bullets and stay out of the romance. Ship and cruise accurate, the novels are a great way for new cruisers to discover a ship too. Please share the Amazon link. .CRUISE SHIP HEIST https://amzn.to/2GKQBIp
Cruise Doris Visits Subscribe. Thank you
Enjoy your cruise