We like to contrast Jean's films with those of others Doris Visits cruisers, and often feature the relaxed films of David and his 'Elizabeth Goes Cruising Again'. She is best known for her world cruises and has everything a cruiser could want, including world class dining, spa, salon, cinema and theatre. At Aurora's heart you'll find a four-deck atrium with a stunning 35ft sculpture of two figures veiled in water. Aurora can cruise at 24 nots, can have 1,950 passengers and has a crew of 850. The ship was hosting a conference of IT guests off New York as the attacks of September 11th 2001 hit and was guarded by the coast guard.
Cruise Doris Visits Subscribe. Thank you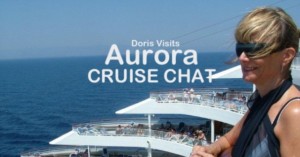 If you fancy a complete ship tour, see Jean's top to bottom tour of all the passenger areas in this very nice and stable ship. Aurora Ship Tour Azura Ship Tour Britannia Ship Tour Arcadia Ship Tour
This tour was done on the Norwegian Fjords.
Why not have a look at the LATE DEALS over a coffee. Doris Visits allows you to SEE THE CRUISE BEFORE YOU CRUISE THE SEA. We have destination guide videos of most of the world's popular cruise destinations. Please follow us on Facebook and Twitter and share.FJORDS DESTINATIONS MENU – get guides, information and see every Fjord stop here

Clicking the DORIS VISITS COMPARE CRUISE DEALS BOX takes you to a variety of deals and explains how they are all found.
Walking Shoes and what to pack. This is cruise of discovery and in maybe seven port stops with seven cities to explore you might need good shoes and few things. CHAT GROUP – Cruise the Fjords Chat – New Group, be one of the first to join and start a thread on your forthcoming or past cruise by number – CLICK HERE TO SHARE & CHAT