Beautiful Tallinn has been war torn throughout history, so it won't surprise you it is riddled with tunnels. Kiek In De Kök.
The tunnels are full of stories that your guide will reveal. Although most of the men walked round in T shirts, the ladies wore blankets supplied on the way in. It is cold underground. FRED OLSEN BALTIC CRUISE MARELLA BALTIC CRUISE P&O BALTIC CRUISE SAGA new ships in BALTIC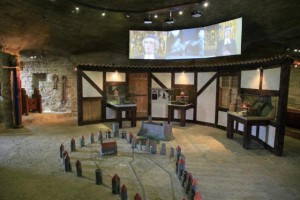 Kiek In De Kök is actually German for look or peek in the kitchen, and it got it's name from the soldiers in the tower who used to peep into the windows of the houses below, they said into the kitchens! The name relates to the tower where in the arms room, you can explore historical weapons and try out a shooting simulator. The film shows the tunnels which were very important during wars which have raged certainly between the 13th to the 18th century.
The tower offers unique views of the city and port. The tunnels and passages in the city wall and below are also full of interesting stories. Neitsitorn Tower, Tallitorn Tower, the gate tower of Lühike Jalg, and the Bastion passages are all worth seeing. This is the Kiek In De Kök web site.
Cruise Doris Visits Subscribe. Thank you
CRUISE INSURANCE Stockholm VASA museum Skagen Teddy Bear Museum
What are you going to do on your Baltic Cruise? – Take a look around Doris Visits and get more out of your cruise research – guides, tours, cabin tours, ship tours, news. AARHUS COPENHAGEN FREDERICIA GDANSK GOTHENBURG HELSINGBORG HELSINKI KALUNDBORG KIELE KLAIPEDA MALMO OSLO RIGA SKAGENSTOCKHOLM TALLINN TRAVEMUNDE VISBY WARNEMUNDE
Research tours by clicking above on your destination. Also use below for information on your destination.Find your ship's chat site + share your pictures + experiences to help others
Aurora Ship Tour Azura Ship Tour Britannia Ship Tour Arcadia Ship Tour Oceana Ship Tour