Tom McLauchlan is master guitarist and visiting tutor of guitar at Charterhouse, Surrey, but more importantly to us cruisers he visits ships and appears performing classical recitals. We recently listed to two of his amazing shows on the Aurora, where his ability to make the guitar do and be so much is quite astounding. He producers noises, drumming and sounds and has a style that questions his nationality. He must be a Spanish playing in disguise. If you have the chance go and see Tom, he will enrich your evening.
CRUISE INSURANCE CAR PARKING DEALS ON BOARD ENTERTAINMENT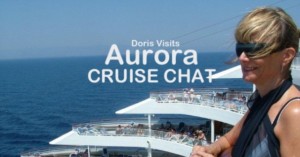 Tom is a prize winning classical guitarist graduate of the Royal College of Music. He is fast becoming known as one of the most dynamic and versatile guitarists around. He is not the guitarist we used on the soundtrack of our film Bula Quo which is often used on Doris Visits, that is Tim Dodd. But, we would certainly like him to play us some pieces. Tom studied with Gary Ryan and now maintains an eventful performing career as a solo artist as well as in duos featuring flute, violin, voice or guitar. Performances have taken Tom all over the world, including concerts at some of the UK's leading festivals and venues. He has performed at the Bridgewater Hall Manchester, Purcell Room London, Cardiff Millenium Centre, Fishguard International Music Festival, Dundee Guitar Festival and for the 7th and 8th International Guitar Festivals in London. He made his concerto debut with the Farnborough Symphony Orchestra and concuctor John Forster, performing Rodrigo's 'Concierto de Aranjuez' and in 2000 was presented with an Exhibition Award from Trinity College of Music.
SHIP & CABIN TOUR VIDEOS IBERIA CRUISE ROMANTIC CRUISE BOOKS
You will be more than entertained because he is an engaging performer who easily converses with his audience which not all serious musicians can do or take the time to do. here is his performance of Cavatina which was used as the theme to the film The Deer Hunter. Not sure that will make a cruise destination connection with Vietnam on our film section.
If you want to see Tom on land here are a list of his performances. If you want to stay in touch with Tom here is his web site and contact.
WHAT TO PACK CRUISE DEALS MARRIAGE AT SEA P&O LATE DEALS