A world cruise stop at Phu My Vietnam. The ship docked bright and early in Phu My, and with no trouble, we were ashore and in our excursion coach heading for Ho Chi Minh City.
Previously known as Saigon it was once known as Prey Nokor a seaport of the Khmer before the Vietnamese took control in the 17th Century.
There are many tours available to see numerous landmarks bound in history and tradition: from museums that tell the stories of war to ornamental pagodas that are filled with characters from Buddhist and Taoist religions or to the fascinating tunnel network at Cu Chi, used by the Viet Cong during the war. At their height, they stretched from the South Vietnamese capital to the Cambodian border. But for that tour, you must be thin and not claustrophobic.
Our tour was of the city, bus 22 as you can see, and as we were taking time off the proper cameras were left at home. This, for once is shot on a handicam.
Highlights of Ho Chi Minh – excursion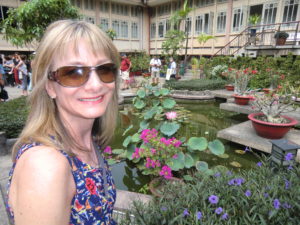 This is a 7 and a half hour tour which takes you into the city. The coach journey is about an hour 15 minutes and the walking tour is around 3 hours with coach breaks and lunch.
Vietnam was not how I expected having watched so many war shows but they were from the 1970s and it has been developed and ranges huge modern buildings into the sky like any major city. It has that huge contrast of extreme poverty and wealth, and you are constantly being sold hats and tee shirts. As you leave the ship the shirts are ten dollars each, as you return they are ten for a dollar and every man is then wearing the same shirt. Our excursion was to a Natural History Museum with costumes and ceramics, then to a water puppet show a taste of which is on the video.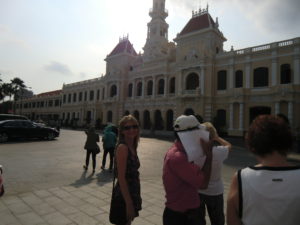 It was then city landmarks, including the neo-Romanesque Notre Dame Cathedral, whose twin spires are a distinctive, the Reunification Hall which was once the Presidential Palace and where Liberation forces, on 30th April 1975, marked the end of the Vietnam War. Then we saw the famous Rex Hotel where all the war correspondents stayed. Lunch is supplied, Vietnamese style with dancing, a little of this is also on the film, then to Thien Hau Temple, dedicated to the Sea Goddess – Protector of Sailors. A highlight was the central post office opposite Saigon Notre Dame. It is a magnificent building designed by the French architect Eiffel. It looks more like a railway station inside with its arched roof, ornate maps and clocks set to different times around the world. Definitely a must-see. Finally to the lacquer factory which has impressive pieces but they are not as cheap as the tee shirts and hats they sell on the streets. If you like to be looked after and want to see Saigon, then this might be the tour for you. This is not our usual tour film, it is just a snippet of two of the things that are always on this excursion. See below.
Cruise Doris Visits Subscribe. Thank you
Find out more about the entertainers working at sea ON BOARD ENTERTAINMENT join their Facebook Pages and & please share with your friends. Classical Guitarist Tom McLauchlan gave a fantastic performance of Cavatina on the Arcadia when we sailed it a few years later in New England.
Other excursions from Phu My
'Countryside and Cu Chi tunnels' is the one for the thin and not claustrophobic, though you don't have to go down the tunnels.
Ho Chi Minh City on your own is for those who do their research and love freedom.
Then there is normally a Jewels of Indochina Overland. This is where you leave the ship and go away for two days and then rejoin. The passengers we talked to who did this were all very impressed and full of it so it is worth looking at.
Take a look at some of the places where we have filmed properly since starting the travel show. Jean is now the main presenter for Doris Visits and has been on many fact-finding missions to cruise stops. Here is a quick overview of seven Baltic Cruise stops. Click here for a taste of the Baltic.
As Phu My is a normal World Cruise stop for the Arcadia, you might like to see our film of the ship, or this film of Marco Pierre White's Ocean Grill. The Arcadia and Adonia are the only P&O ships to have Marco's fine dining restaurant, though he does have Marco Menus on the free dining on many ships. Click here to see the Ocean Grill. The next circumnavigation for the Arcadia is shown here.
BOOKS SET IN HO CHI MINH CITY: RU – Ru: In Vietnamese it means lullaby; in French, it is a small stream, but also signifies a flow – of tears, blood, money. Kim Thúy's Ru is literature at its most crystalline: the flow of a life on the tides of unrest and on to more peaceful waters. In vignettes of exquisite clarity, sharp observation and sly wit, we are carried along on an unforgettable journey from a palatial residence in Saigon to a crowded and muddy Malaysian refugee camp Buy Ru on Amazon – Click here
Essentials – cruise travel labels and our cruise crime novels – oh, and the seasickness bands.

The Port guides here on Doris Visits are a great way to remember your cruise and share with your friends. The crime novels are a whole new experience. You may not have been to the ports in the novels, you certainly won't have been to the parts of the ship they use. All the cruise crime novels will make you feel like you are in the adventure and on the ship – dodge the bullets and stay out of the romance. Ship and cruise accurate, the novels are a great way for new cruisers to discover a ship too. Please share the Amazon link. .CRUISE SHIP HEIST https://amzn.to/2GKQBIp