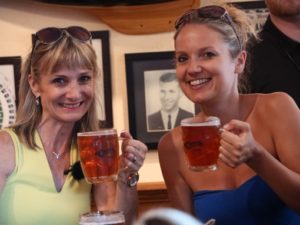 We flew to Boston with Lianna and Yukiko to meet the Aurora on New England Cruise route R715. We had never met them before so it was a real treat to watch and listen to the pair play together. They perform in such harmony and are so easy and comfortable playing together they engage totally with the audience. We saw all their shows which were in the pre-dinner slot on in the cinema. You will glimpse the camera shy Lianna in our Cheers video of Boston and the keen eyed will see her in China Town as Jean is by the traffic lights, that is on the overall guide film of Boston. Not to haunt her out on camera, but we caught her with a beer in hand in Cheers and you have to see that. Lianna, like all entertainers is used to travel. She even played on the Paul Potts UK Tour (Winner of 'Britain's Got Talent').
NEW YORK LIBRARY GRAND CENTRAL STATION NEW YORK BIG BUS TOUR – RED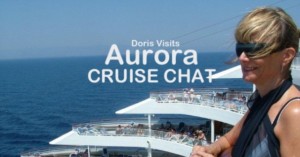 Flautist Lianna Jeffery studied at Trinity College of Music where she gained a first-class Honours Degree in Music Performance and won prestigious award. She achieved a Postgraduate Diploma with merit at the Royal Academy of Music and had the privilege of studying with eminent flautists such as Celia Chambers, Wissam Boustany, Anna Noakes and Michael Cox. Lianna's music career has seen her perform as a soloist as well as in orchestras. She has also formed various chamber ensembles including the 'Dolce Duo' with Yukiko Shinohara which she takes on board the ships, playing in the pre dinner classical section of the busy entertainment program on board ship.
Pianist Yukiko Shinohara was born in Ibaraki, Japan and studied at Tokyo Metropolitan Senior High School for Arts and Music before coming to the UK. She received her BMus from Goldsmith's College (University of London) under Susan Bradshaw, and later studied with Douglas Finch at Trinity College of Music where she received a MMus Degree and Postgraduate in Advanced Performance with Distinction. She also studied with Catherine Vickers in Frankfurt and attended summer schools at Dartington, Darmstadt, Salzburg and Nice. Yukiko was a Park Lane Group Young Artist in 2001 doing solo recital at South Bank Centre in London, and has performed Ligeti's Etudes at the contemporary music festival Composium 2003 at Tokyo Opera City and premiered Britten's early piano works at Aldeburgh Festival. Together they played every sea day as the Aurora heard south and wondered where storm Irma was going.
CRUISE INSURANCE CAR PARKING DEALS ON BOARD ENTERTAINMENT
You have to admire the long list of Lianna's orchestral experience which includes the Britten-Pears Orchestra, Britten Sinfonia, City Chamber Ensemble, City Concert Orchestra, the Aurora Orchestra, the National Chamber Orchestra of Wales and the Locrian Ensemble, in addition to a trial with Bournemouth Symphony Orchestra, with whom she still performs. Venues for these performances have included the Royal Albert Hall, Cadogan Hall, Winchester Cathedral, St. Martin-in-the-Fields and St. John's Smith Square. If you get married at sea and the girls are on maybe they could play at your wedding!
CRUISE DEALS MED CRUISE NEW ENGLAND CRUISES
Yukiko, as well as performing in U.K, Japan and Europe as a soloist and chamber musician in Classical concerts, she collaborates with contemporary dancers, writers/poets/actress in unique performance projects and is currently on staff as an accompanist at Trinity College of Music. We spent a great week with both Lianna and Yukiko, oh, and there was the mad Manuel Martinez…. enough said!
Cruise Doris Visits Subscribe. Thank you
Venice evening sail away Zadar Guide Walls of Dubrovnik
More entertainers working at sea ON BOARD ENTERTAINMENT join their Facebook Pages and & please share with your friends.