MS Europa 2 is operated by Hapag-Lloyd Cruises, a German-based arm or TUI and a sister company to Marella Cruises. She entered service in May 2013, and is the highest rated cruise ship in the world according to the Berlitz Guide to Cruising & Cruise Ships, replacing her fleetmate, MS Europa, which had held that distinction for more than a decade. She is said to have the greatest space per passenger of any cruise ship and she was designed to be more relaxing than her equally nice flatmate whose nose she has adjusted. This makes her quite a classy ship! At a length of 225 meters and only 7 passenger decks she takes 516 guests at a top cruising speed of 21 knots. She has more than 370 crew which is greater than the magic 2 to 1 number.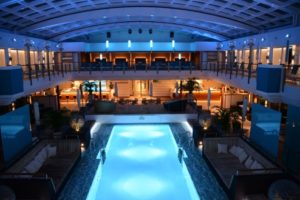 The art collection onboard is one of the largest at sea, with 890 originals commissioned exclusively for the vessel. We do like to see art on a ship, the two go hand in hand. Both the Arcadia and Azura have great galleries we enjoy walking through. The Europa 2 has works by Ólafur Elíasson, David Hockney, Damien Hirst, Adam Fuss and Hans Hurting. If you think that a collection, then it has over 200 Gins! That is a collection! Hapag-Lloyd claims that the vessel's gin collection, which is constantly evolving, is the largest in the cruise industry.
Cruise Doris Visits Subscribe. Thank you
novels set at cruise locations page
With seven gourmet dining restaurants and a choice of 600 wines, again, a claim is that an ordinarily normal night can see 120 different dishes served à la carte. There is an open air buffet at the top and six bars. Needless to say it has suites and penthouses that we can only dream of seeing should we ever win the Lottery. So, as you can imagine, when we saw it pulled up next to us in the Caribbean, we just had to share the pictures. Sorry they would not let us inside. If you can book this with the special Black Friday TUI code we release tomorrow, then please do let us know. If you need to ask the question, 'do we have to dress for dinner?', you might be on the wrong TUI ship! This amazing ship often uses Edinburgh's Rosyth Cruise terminal.
And get this, they have high definition 300 degree camera on the mast! Click here to see
As a post script, the Britannia was voted the best new ship when launched in 2015, and that is worth a look. For that we have a full ship tour of all passenger areas. The Britannia may not be as spacious as the Europa 2, but there is more space and it has more facilities. It is the age old question big ship v small ship. Our favourite place on the Britannia is the Limelight club with great acts like Dean Andrews.
NEW YORK LIBRARY GRAND CENTRAL STATION NEW YORK BIG BUS TOUR – RED NEW YORK BIG BUS TOUR – BLUE NEW YORK BIG BUS TOUR – PURPLE NEW YORK ELLIS ISLAND NEW YORK CENTRAL PARK STATUE OF LIBERTY TOUR NEW YORK – JUMPING OFF THE STATUE OF LIBERTY BROOKLYN CRUISE TERMINAL ACCESS ROCKEFELLER CENTER SAIL UNDER UP RIVER & UNDER HUDSON BRIDGE EMPIRE STATE BLGD @ NIGHT