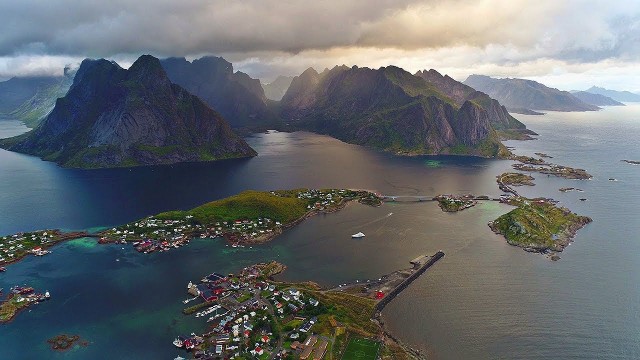 The incredibly still water, the colours, the rainbow, the light, everything looks amazing. Pictures that make great (and annoying) jigsaws fill this drone video, one of Norway's prettiest remote Arctic archipelago destinations. It has wonderful natural channels that invite boats in as the houses sit on the edge of the water and look on. This is real peace, a fantastic visit you will never forget, with a Tolkien like vision with peaks called Troll that you can hike to. But you are above the Artic Circle and the waters can be turbulent. P&O CRUISES IN THE LOFOTEN ISLANDS
Roads link five of the islands by bridge or tunnel, so what is here? A Fishing Museum. The Viking Museum in Borg has guides in authentic costume taking you into the Iron Age, a replica Chieftain's farm, the banqueting hall, the boat house and the smithy. A small fishing village with a red wood church and wooden buildings. Scalloped roof tiles, open fires, fish oil lamps and a horse shoe shaped marina that you can walk or drive round. Perfect fjords with a huge variety of birdlife that you can kayak round. It's a great place. MARELLA CRUISES IN THE LOFOTEN ISLANDS Local Tourist site – visit Norway We suggest you take a look at one of the best films we have in the drone collection.
Cruise Doris Visits Subscribe. Thank you
VIDEO OF THE NEW SHIP IONA – HERE – NOW – IONA MOVIE – SEE IT !!
Aurora Ship Tour Azura Ship Tour Britannia Ship Tour Arcadia Ship Tour Oceana Ship Tour
ANDALSNES BERGEN FLAM OLDEN OSLOFJORD SKJOLDEN STAVANGER TROMSO
REYKJAVIC AKUREYRI ALESUND ALTA BODO EIDFJORD KLAKSVIK TORSHAVN
GEIRANGER HAUGESUND HELLESYLT HEIMAEY HONNINGSVAG ISAFJORDUR
KRISTIANSUND LOFOTEN ISLANDS LONGYEARBYEN NARVIK
PORT GUIDES – FJORDS MENU OF DESTINATION GUIDESPORT GUIDES – BALTIC SEA MENU OF DESTINATION GUIDESPORT GUIDES – BRITISH ISLES CRUISING DESTINATION GUIDES