Said by some to be unbeatable for its vivid nightlife and over 60 sandy beaches, this small Greek island is one of the 24 islands in the northwest of the Aegean Sea that form the Sporades archipelago.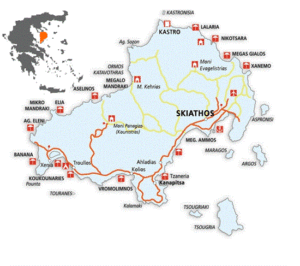 Four are permanently inhabited and ferries run between them as well as private hire boats. If you can drag yourself away from the wonderful bays, beaches and bars, one tour will be to the Mamma Mia! island of Skopelos. There are no local guides offering tours through Get-Your-Guide, but there are clubs and bars along the seafront. The town is pretty and the main street, Papadiamanti Street, is named after Alexandros Papadiamantis, one of the greatest modern Greek novelists. His house is transformed into a small museum. Hire a vehicle and explore.
Whilst we can find no tours, here is the next thing a movie location scout looks at: an estate agent selling properties, and in this case, islands!
Check out my cruise and port accurate mystery thrillers in paperback and eBook with some in large print and as audiobooks. They are all set on a cruise and written like movies or TV shows. Well, that is where I spent the last 50 years!
Our page on cruise insurance & antigen testing: click> INSURANCE & TESTING
SHIP TOURS help you choose your next ship Aurora Ship Tour Marella Discovery 2 Azura Ship Tour Cunard Queen Victoria Britannia Ship Tour Virgin Scarlet Lady Arcadia Ship Tour Ventura Ship Tour SUITE on P&O Every cruise ship and every fleet listed here
CHAT GROUPS – a fantastic way to help others and a place to find answers. We run a Facebook Group for each of the ships. For example, P&O IONA group P&O Ventura MARELLA EXPLORER Disney & Family cruise chatSAGA Ocean & River cruise chat group Viking Ocean & River Cruising chatCunard Chat – Premium cruise liners Find the complete list of chat groups here