David Taylor has been on the Ventura pre-Christmas Canary Islands cruise for us. He and Elizabeth have shot another great video full of festive spirit. The ships decked for Christmas are a treat. So enjoy. See our 2018 Ventura ship tour.
Cruise Doris Visits Subscribe. Thank you
TWO GREAT CRUISE DEALS SPECIFIC TO THE P&O CRUISE SHIP VENTURA – CLICK HERE
The Canary Islands cruise is described very well in one of the cruise novels we feature.
Why not join the Ventura chat site and share your experiences? Elizabeth tells us she is finding it hard being recognised on board, but we are sure she is getting used to that side of the job. The Ventura is the sister ship to the Azura and the Ruby Princess and is definitely the class of ship that the novel Her Virgin Voyage was written on. David said he never knew all that went on, on-board ship when he read it but then he probably never read 50 Shades.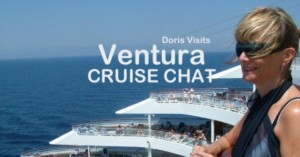 The cruise even takes on some of the ports in the book, Lisbon, Madeira, La Palma, Gran Canaria and Lanzarote. Charles left a great photo blog on one of our chat sites which we are able to widget into the web site as a blog, and that is on the César Manrique site in Lanzarote. Please join the Ventura chat site and tell us your experiences – unless they are like Violet's in Virgin Voyage. Talking of which, Richard Branson has announced the shape of his new ships and they are just a little smaller than the Ventura. Whereas the Azura spends the winter in the Caribbean, the Ventura spends the winter mainly in the Canary Islands making the ships experiences totally different. All these ships hold just over 3,000 guests and have three major entertainment venues with some of the greatest acts. Jean goes on the Ventura for us in 2018.
David tells us he has a great film in the edit of the Royal Palace of Queluz, a great trip by train from Lisbon.
P&O Cruises cruises to La Palma – view P&O La Palma cruises here Fred Olsen cruises to La Palma – view now on the Fred Olsen site here Saga Cruises to the Canary Islands – view there site here by clicking now Marella Cruises to the Canary Islands – click here for Marella Cruise's own web site page for – Canary Islands Cruise deals page
The deals below are the cruise operators adult only cruises given to SAGA to sell.