Some people join a world cruise to avoid the winter sail out of Southampton, but a world cruise is all about people and the whole event if you have the time to do it. David and Elizabeth Taylor give Doris Visits films in a contrasting style which we and many of our guests like, they were the first couple to join Doris Visits and offer films, the latest and Jack and Melinda from the USA. This allows the informal guest look at more ships and more destinations. These films are more relaxed than Jean Heard's faster cut short films. Vloggers have their own identity, so when clicking on the menu for say the Arcadia, there is a whole list of TAGS along the top. Click Jean's name just to see her films, click David and Elizabeth just to see their films, then click click just to see it works. Then jump on a chat site and share your experiences, we even pull in great blogs on the chat sites, like those from our 'photo journalist Charles Davis'
Click here to go to the P&O site for further description of the ARCADIASee Jean Heard's ARCADIA SHIP TOUR all passenger areas
David and Elizabeth joined the cruise ship Arcadia in San Francisco and sailed in a storm that Arcadia handled easily, to Honolulu where the Doris Visits team joined the ship to meet them. Follow us on Facebook and Twitter.
Cruise Doris Visits Subscribe. Thank you
Doris Visits had been in Hawaii with Jean Heard filming Oahu in a little more detail than David could in just a day. Jean also joined the ship to perform her one-woman show on Royal Mistresses. One place we wanted to show you, as feature film-makers, was Kualoa Ranch, where they shot Kong Skull Island, Jurassic Park and TV shows like Lost. We also filmed the Polynesian Centre, Pearl Harbour and North Shore so if you are travelling there you can choose what you might wish to see. With David's film, you have a good idea of what is on offer for a cruiser.
Bora Bora was not seen at its best and like many people Elizabeth went back to enjoy the ship. However Jean does take you round the island on the main island tour of Bora Bora, if only to show you it is not Bora Boring as some nickname it.
David's film takes you beyond Papeete where we left the ship, It gave Jean and chance to show Papeete and Tahiti in a little more detail and the night street food, as well as the Manava suite resort hotel we stayed at before flying off to join another ship.
David and Elizabeth were lucky enough to sail down to Aukland but sadly the bad weather we had in Bora Bora was there again. David takes the ferry to Davenport and gets inside the art deco cinema known as the Vic, which is a great sight as we have lost nearly all cinemas of that period here in the UK.
David explains how Napier was rebuilt in art deco style after the earthquake of 1931. A style we explain in Jean's film on Miami and a style that all of us love. The style heralds by reflection the advent of machinery, and in the romantic Solo Cruiser book series (book three, American Portrait) Violet sees it in Miami, Canaveral and Key West, all films we have covered. Napier has 140 art deco buildings and an art deco trust and David finds some great shots here of an era they don't wish to leave; buildings, cars and dresses! There is even a display of vintage cars with their owners in Gatsby-like period dress at the quayside by the Arcadia. Join the Arcadia chat if it is your favourite ship or you are thinking of going on it and have questions. If no one else answers them one of us will. Click the picture.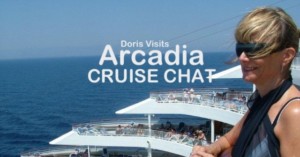 Next was Wellington, the capital of New Zealand. David has some great shots and also takes you inside the Gallipoli Museum. Their last stop was Sydney where they had a tour before going to the airport. David and Elizabeth travelled a distance of 8,588 nautical miles in this leg over 25 wonderful days at sea. Please don't forget to subscribe to the Doris Vists and Elizabeth Goes Cruising channels, numbers count! If you are thinking of a long cruise next year, then take a look at the Arcadia's Western circumnavigation.
Click here to go to the P&O site for further description of the ARCADIASee Jean Heard's ARCADIA SHIP TOUR all passenger areas
Clicking the DORIS VISITS COMPARE CRUISE DEALS BOX takes you to a variety of deals and explains how they are all found.
CHAT and share your love of small ships, and answer other peoples questions. Join the Fred Olsen Cruise Chat Facebook Group
Disaster in the Caribbean! The book series has been in the charts for months. Book 3 sees Violet with a new job on board and a new boss in the USA and Caribbean. It does not go well. Adult action romance on a cruise. Follow author Sally Katz by clicking her name and then on the author page on Amazon, click follow. Then as she releases a new book your are informed.
Marella Cruises to USA / Central America – click here to view Marella Cruise's own web site page for – Central America Cruise deals page