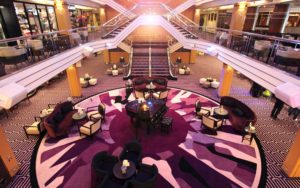 They say ships pass in the night, this is the seventh ships for C&M and it is not new. Built in France in 1988 she was launched as the Sitmar Fairmajestey. It was at one time the Arcadia for P&O, she has also been the Star Princess (re-christened by Audrey Hepburn) and the Ocean Village when Carnival had a brand for adult customers who preferred more casual cruising, she then became the Pacific Pearl in Australia. She has been around the world in various disguises, hit ground in Alaska when Star Princess, but has been a very successful ship. Now the MV Columbus, she had a full refurbishment and then before being put into service had another refurb to ensure Cruise & Maritime Voyages' specifications. The big change is quite intuitive, respecting it is a classed as a smaller ship nowadays, she gives special importance to single travellers making 150 new single cabins. These are not smaller cabins but cabins made for single occupancy and it reduced the ship's previous capacity from 1,800 to an expected 1,400 passengers. There are 20 categories of cabin most being Superior Single, Superior Twin and Superior Twin Plus. There are also inside Twin and Inside Singles and there are Junior Balcony Suites.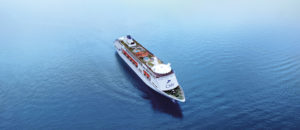 Cruise and Maritime's home port is Tilbury on the Thames east of London. They also sail from Liverpool, Newcastle and Bristol which is not often referred to as a cruise terminal but is a wonderful city. C&M have a straightforward, unpretentious style of cruising aboard their two modest ships. A warm, friendly service with a real 'home from home' atmosphere is assured. There are the traditional formal nights, cocktail parties and gala dinners. If someone has a great film of this ship, and a first hand love of it, please let us know at [email protected]
Cruise Doris Visits Subscribe. Thank you
SEE THE CRUISE BEFORE YOUR CRUISE THE SEA.
We have videos of most of the popular cruise destinations you might sail into from Bequia to Rome (Angels and Demons), from St Petersburg to Pearl Harbour. We also have films of some tours.
READ THE CRUISE BEFORE YOU CRUISE THE SEA. In the book charts! Sally Katz used the films on Doris Visits to peg her romantic cruise novels on! With our permission. Each story lead book takes place over a cruise! Book 1 is a Canary Islands cruise, Book 2 is in the Baltic, Book 3 is in the Caribbean. Books 1 to 3 are Violet's story. (adult romance)
If you are new to Doris Visits Cruise TV then welcome, we invite you to comment at the end of our blogs, and ask you for follow us on here on www.DorisVisits.com and like us on Facebook and follow us on Twitter and subscribe to our YouTube Channel to get the best from us. We are always looking for a social media persons to help us expand so drop us a line anytime at [email protected] PLEASE SHARE
CRUISE INSURANCE BELOW – OR OUR BLOG inc EHIC