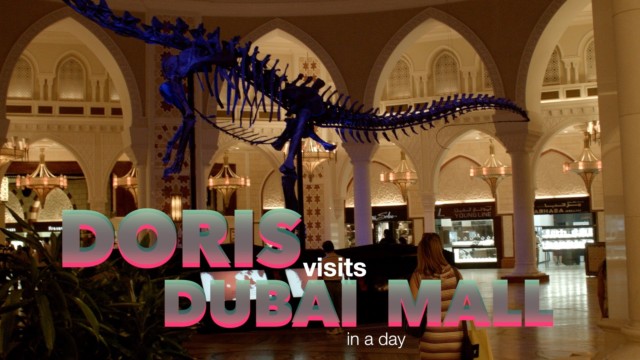 The Suez Canal widens for bigger business and the ships sail through. Arcadia sails there in 2019 on a wonderful itinerary Dubai to Southampton!
But Dubai has also become the long weekend shopping trip. In Dubai there is so much to choose from. The Souks local to the cruise terminal are wonderful, The Gold and Spice on one side of the river, the Old Textile soul on the other side of the creek with the Heritage centre. The modern malls are full of shops you will recognise from back home but surrounded by ski slopes and aquariums reaching up two floors. I kid you not, Dubai is a shopping experience like no other …. and then there is downtown Karama with its 100% genuine fakes at 90% discount. Taxis and the Metro make so much possible in this playground of the rich and famous where alcohol flows like no where else, not least on a long brunch.
The Dubai Mall
This mall is huge, beyond huge. You can have a golf cart taxi run you around, you might need to. You will be walking for days, it is huge. Think good footwear! Watch the film first…..
Cruise Doris Visits Subscribe. Thank you
The Mall is the biggest in the world, including all areas, it is huge. The Fountains are actually outside in the lake, as is the Burj Khalifa, the tallest building in the world. Come back and check out that blog for Wow factor! Click this text. Inside is an ice rink, the statue of a dinosaur and so much more. It has its own gold souk,  a Rainforest cafe next to the ice rink, and a Sega Theme Park. There is a lot to do, you will walk more than you have ever done before. The shops open late and families shop late so don't be shocked if you go to one of the cinemas inside, then eat, then come out and find it is still heaving.
Jean has also been to the Emirates Mall. In all, Doris Visits has ten films on Dubai. Amazingly seven of them whilst primarily about different areas go into shopping and are listed here. It is worth watching them all if you are planning a few days there.
A number of ships are now basing themselves in Dubai and offering cruises locally or back and forth through the Suez Canal now it has been expanded and is open for big business. Fly cruises and cruises. The Arcadia is going there.
GUIDES AND TOURS MADE EASY FOR YOU
Choose from these many tours in Dubai and book direct CLICK HERE
If you are worried how to choose which cruise, which ship and where to go, take a look at our how to choose a cruise blog. Why not have a look at the LATE DEALS over a coffee. Doris Visits allows you to SEE THE CRUISE BEFORE YOU CRUISE THE SEA. We have videos of many of the cruise stops you might make from St Lucia to Barcelona, from Stockholm to St Maarten. Please follow us on Facebook and Twitter and share.
If you want to see the Doris Visits films on Dubai we have many. Shopping in Dubai, Souks near the cruise terminal, Marina and Beach, Burj Khalifa and Eating Posh, Dubai Madinat. If you are new to Doris Visits Cruise TV then welcome, please sign up to our Facebook Page and share with fellow cruisers. We are at sea every month of the year somewhere and post new films of cruise destinations each week.  Facebook.
SEE THE CRUISE BEFORE YOU CRUISE THE SEA. We show cruise destinations all over the world. From St Lucia to Barcelona, from Tallinn to Tenerife, from Rome to Russia. Please follow us on Facebook and Twitter and share.
READ THE CRUISE BEFORE YOU CRUISE THE SEA. Sally Katz used the films on Doris Visits to peg her books on! With permission. Each book takes place over a cruise! Book 1 is a Canary Islands cruise, Book 2 is in the Baltic, Book 3 is in the Caribbean, and Book 4 goes from the ABC islands through the Panama Canal.