Sailing up the Hudson River into Brooklyn is quite a spectacle, and although it was a completely different skyline when immigrants sailed on steamships to be interviewed on Ellis Island, it would have been no less dramatic. means you dock with a view of the Statue of Liberty, though she can be seen from many places.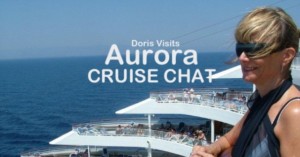 Our presenter Jean Heard missed it as she was on stage performing Nel Gwynne on stage down on deck 6 (entrance deck seven, the stage is on deck 6). It was a strange week, the storm Irma had hit the Caribbean and was felt as far north as Boston, so with unsettled weather we missed Bar Harbour and headed for New York early so the storm direction might be clearer. We had no idea where we would go next to other than Baltimore seemed safe, Charleston and Bermuda were still questionable. Ships don't like to sail into storms unless they have to no matter how stable they are and the Aurora is a beautifully stable vessel. However, that meant that the entertainment program was settled even if many of the passengers were on deck looking at the ship almost ducking to go under the Hudson Bridge. To the wonderful music of our composer Mark Blackledge (see his studio and him at work), which was actually written for the film we made with Status Quo as they escape to the island. That too was as the result of a horrific cyclone that destroyed all our film locations and meant we had to move and the story change. For those entering America looking for a new life, this was their first view before going into the unknown. We have many films on New York, from the Library to Grand Central Station, plan what you want to see, and if you decide it is easier by Big Bus getting it all explained, as we did, then you can but your ticket in advance on this page. If you watch the film carefully, Jean comes up to the deck when all the fun is over, she is standing with comedian Manuel Martinez. Oh well, she can watch the film we dame without her. AURORA CHAT
If you are on a New England Cruise we have many films that might help you plan or excite you about your forthcoming trip, or if you are undecided they might just sway you to this route. They include Boston Cheers, Boston Harbour Walk, Boston Clough House, Boston Quincy Market and Freedom Trail, New York Statue of Liberty and Island trip, NY Ellis Island, NY Empire State Building by Night, NY Big Bus Blue Route, NY Big Bus Purple Route, NY Big Bus Red Route, Baltimore Guide, Charleston Guide and Bermuda.CHAT GROUP – AURORA CHAT
BUY YOUR BIG BUS TICKET HERE, THE QR CODE CAN THEN BE USED TO PRINT OUT YOUR TICKET BY ANY OPERATIVE NO QUEUE, NO GOING TO AN OFFICE – TICKET AT BEST PRICE WITH NO HASSLE
SEE THE CRUISE BEFORE YOU CRUISE THE SEA. We show cruise destinations all over the world. From St Lucia to Barcelona, from Tallinn to Tenerife, from Rome to Russia. Please follow us on Facebook and Twitter and share.
Cruise Doris Visits Subscribe. Thank you